St Louis Rams vs Arizona Cardinals Live Stream Free: Watch Online NFL 2013 Football (Fox TV Schedule, Start Time)
St Louis Rams vs Arizona Cardinals Live Stream Free: Watch Online NFL 2013 Football (Fox TV Schedule, Start Time)
This is a huge week in the NFC West division, with the Seattle Seahawks taking on the San Francisco 49ers and the Arizona Cardinals playing the St Louis Rams. With the Seahawks favorites to take down the 49ers, the Cardinals will see this as the opportunity they've been waiting for to catch San Francisco in the race for 2nd place in the division. Today's game between the Cardinals and Chargers will take place at 4.25 p.m. ET and can be watched online through free live stream (details below).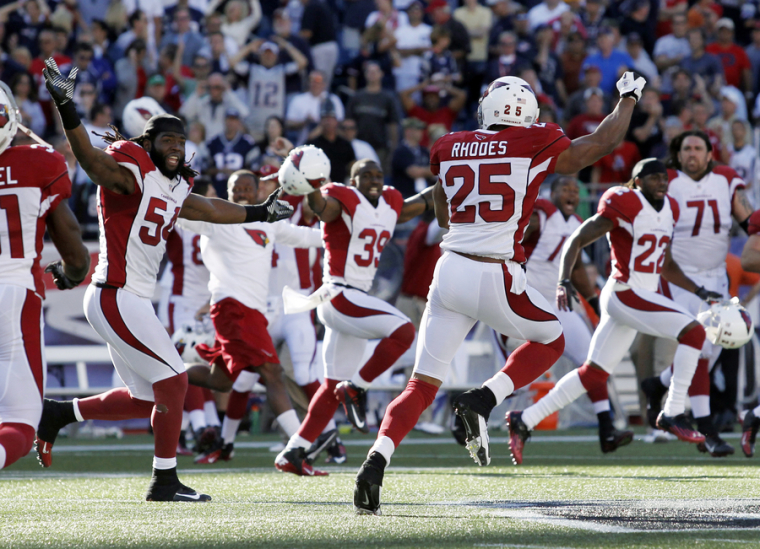 The Cardinals have done fantastically well through the middle part of this regular season and come into this game on 7-5. That is just a game behind the 49ers who are second with an 8-4 record.
The Cardinals will be hoping to claim a Wild Card spot this season but will know they have to do well through December to make sure their hard work so far does not go to waste.
The Cardinals lost last week in a disappointing 21-24 defeat to the Philadelphia Eagles. They were unable to build on their 40-11 win in Week 12 against the Indianapolis Colts, and must now bounce back immediately if they are to push on and claim a postseason berth.
Arizona's season will ultimately come down to how things work out between the teams within the NFC West. In their next four weeks they will play the Rams, the Seahawks and the 49ers – and how the Cardinals do in those games will determine whether they make the playoffs or not. They will see tonight's game as a must-win, and will be hyped up to start well today against the Rams.
In a morale-boosting piece of news for the Cardinals it was confirmed earlier this week that quarterback Carson Palmer will be ok to start today's game. He was listed as questionable with an elbow injury but it now seems that he will make the game today.
Palmer is 274 of 436 for 3,189 yards and 19 touchdowns.
Meanwhile, the Rams are 5-7 and in the basement of an extremely tough division. They managed to claim a great 42-21 win over the Chicago Bears in Week 12, but they lost against the 49ers last week 13-23.
There will be no love lost between the Rams and the Cardinals for today's game and expect an explosive clash with much at stake for today's big game.
The Rams against the Cardinals will start at 4.25 p.m. ET and can be watched on TV on the Fox network or online through free live stream by clicking here.
St Louis Rams vs Arizona Cardinals week 14 preview