St Louis Rams vs San Francisco 49ers Live Stream Free: Watch Online NFL Football (4.25PM ET)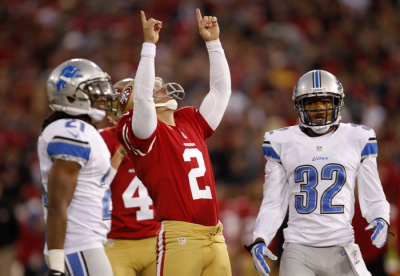 St Louis Rams will face off against the San Francisco 49ers on Sunday afternoon in an exciting Week 10 match up in the NFL. The Rams' early season surge has begun to stutter and they will be eager to claim a win today to continue their push for the play offs. The game will start at 4.25 p.m. ET and can be watched online through free live stream by clicking on the link below.
The Rams were the surprise package of the early season as they impressed with a run of wins. However, they have not shown the same intensity over recent weeks and that has seen them slip backwards drastically.
St Louis are currently 3-5 and bottom of the NFC West, but in a close division another run of wins at this point in the season could see them competing come the end of the regular season.
This NFC West clash will see the Rams come up against the divisional leaders. The 49ers have put on some impressive performances so far this season and have been breathtaking at times. They come into this clash with a 6-2 record, but know they must keep their foot on the pedal if they are to stay in the number one spot.
The Seattle Seahawks are just a game back from the 49ers in second with 5-4, and the Cardinals are third with a record of 4-5.
For both these teams this is a vital game for their seasons. Probably more so at this point for the Rams, because a loss at this point could the first nail in the coffin for their season. Where as a win would give them the confidence needed to make a run in the wild card race, although they would have to maintain winning form through to the end of the season as the hugely competitive NFC could potential require teams to get at least 10 wins to make the play offs.
St Louis Rams vs San Francisco 49ers starts at 4.25 p.m. ET and can be watched online through free live stream by clicking here.