Tennessee Titans vs Jacksonville Jaguars Live Stream Free: Watch Online NFL Sunday Football (1PM ET)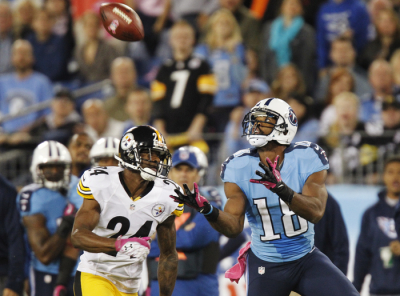 The Tennessee Titans will line up against the Jacksonville Jaguars on Sunday in this all-AFC South match up. The Titans still have something to play for despite having a disappointing season so far, and if they can claim a win against the basement team today they could potentially make a late push for the playoffs. The game is scheduled to start at 1 p.m. ET and can be watched online through free live stream via the link provided below.
The Titans come into this clash with a 4-6 record and lie third in the AFC South. The Jaguars meanwhile have the worst record in the NFL with a 1-9 record and sit stranded at the bottom of the division.
The Titans have quarterback Jake Locker back, which has lifted their morale, and if they can push on and win today they will move to a 5-6 record – just enough to keep their season and playoff hopes alive for the moment.
Meanwhile the Jaguars, despite having a 1-9 record did show signs of life last week. In particular, quarterback Chad Henne had a fantastic game, which almost pushed the Houston Texans to a rare defeat.
However, for all their good work in the game the Texans just came through that contest, handing out a ninth defeat for the Jaguars this season. But that performance was enough to give Jacksonville fans some hope, and the Titans are certainly not as good as the Texans. If they can replicate their performance of last week the Jaguars could gain a second win of the season.
The Tennessee Titans will face off against the Jacksonville Jaguars at 1 p.m. ET on Sunday, with the game being televised locally, but also available to watch online through free live stream by clicking here.