'The Bold Type' Season 2 Spoilers: Jealousy Sparks Among Jane, Sutton and Adena
'The Bold Type' Season 2 Spoilers: Jealousy Sparks Among Jane, Sutton and Adena
Jealously might be brewing on "The Bold Type" season 2. Jane (Katie Stevens) and Sutton (Meghann Fahy) might not exactly warm up to Adena (Nikohl Boosheri), as her relationship with Kat (Aisha Dee) deepens.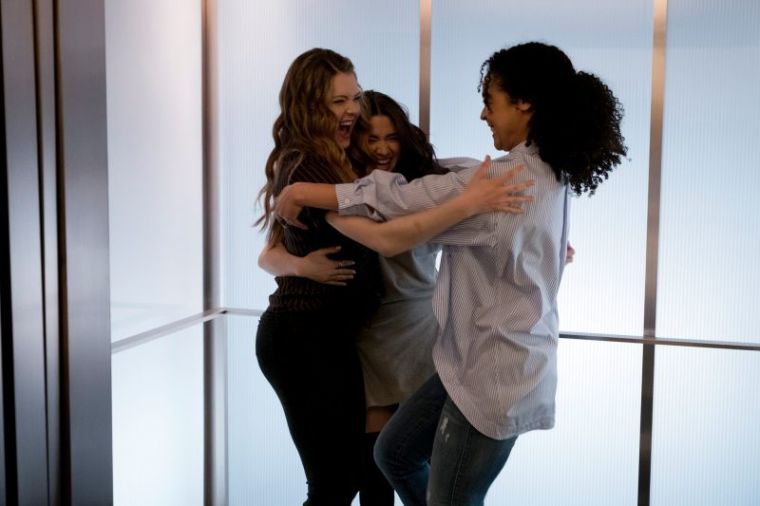 Stevens and Fahy spoke with TV Guide to share their thoughts on the girls' friendship in the upcoming season. Kat and Adena would be spending more time together as a couple, which could earn resentment from Kat's besties.
"I feel like we're going to be jealous friends," Stevens hinted. "Yeah, it's a very tight-knit threesome," Fahy echoed and added, "While we're very open, I wonder if there might be some [jealousy]."
In the final episode of the first season of "The Bold Type," Kat decided to stick it out with Adena, who was supposed to permanently return to her home country as her Visa expired. It looks like her character will finally get a reprieve and return to New York with Kat and viewers will have to wait for the second season to watch how that exactly happens.
Meanwhile, Stevens compared "The Bold Type" to the formerly top-rating HBO series "Sex in the City" that ran from 1998 to 2004. Stevens related that the show explores women's friendship and lifestyle in a real and positive way.
"The Bold Type" centers on 20-something women who work at Scarlet, a fashion magazine. The show also has a strong female character in its editor-in-chief Jacqueline, played by Melora Hardin, who has been patterned after former Cosmopolitan magazine's EIC, Joanna Coles.
"These topics are universal — everybody can relate to female friendship, everybody can relate to navigating your way through your twenties and how confusing and difficult and beautiful and fun that is," the actress said.
"The Bold Type" season 2 returns on Freeform on Tuesday, June 12, at 8:00 a.m. The show also streams on Amazon Prime for its subscribers. The series also earned a third season for 2019.