'The Real Housewives of New York' Season 7: Episode 5 Recap, 'The Art of Being a Cougar'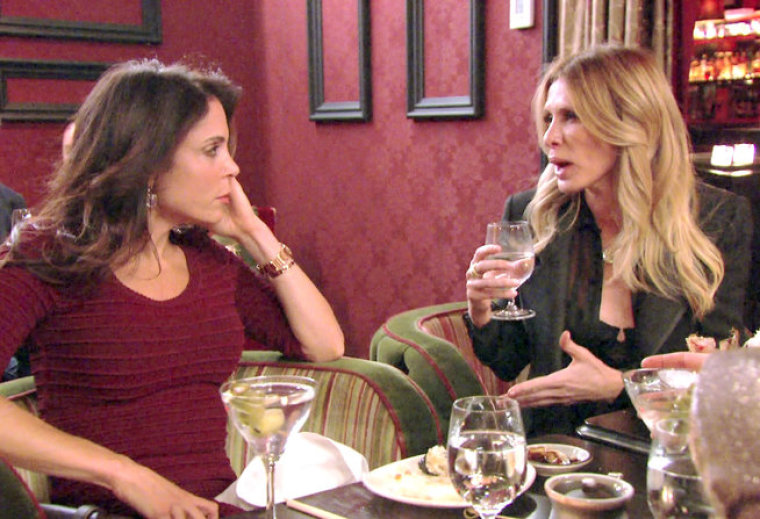 This week on "The Real Housewives of New York," Bethenny Frankel celebrates her birthday, while Carole Radziwill goes on a date with a much younger man.
Carole meets up with Heather Thomson at High Line, and Heather says that she had a conversation with Bethenny and thinks that they should all give her another chance and have dinner together. Carole says that she's been spending time with Adam, who is LuAnn de Lesseps' private chef.
Carole says that she and Adam went to a party at her friend's club and she ate a "gummy bear". She said she didn't know what was in it, but apparently it was a kind of drug and when the chef took her home, she suddenly throws up all over him in the cab.
"I have a theory about puking," says Carole. "First of all, guys aren't really grossed out by gross things, and as a woman it makes you seem vulnerable and they like that."
She told Heather that he stayed over to make sure that she's ok. So far, she's happy, but the only problem is what LuAnn might say, as Adam used to date her niece.
Meanwhile, Bethenny is celebrating her birthday and she's having a low-key celebration with LuAnn, Carole, and Sonja Morgan, who brought a date. Sonja's date also brought along his roommate, and Bethenny isn't happy about this.
"Your plus one can't have a plus one," Bethenny fumes at Sonja. "It ends there." But later, she gets over it and makes a toast saying how happy she is.
The next day at Kristen Taekman's apartment, Heather talks about Bethenny's party, and Kristen is hurt that she wasn't invited.
At Dorinda Medley's home, her daughter Hannah mocks Dorinda's boyfriend and tells her that she's a "chubby chaser." Dorinda reveals that Hannah and her boyfriend, John, don't exactly get along.
Dorinda and John go to dinner, and they're arguing about John's differences with Hannah. "When Hannah's here, where am I?" he asks Dorinda.
"Don't be a baby, she's my baby," said Dorinda. "You back it up quick," she warns him.
At another dinner party, Heather invites Bethenny, Dorinda, and Carole to get together. Heather tells Bethenny that Kristen was hurt because she didn't invite her to her birthday dinner, and Bethenny pretends to go to sleep and dismisses Kristen's feelings as "completely ridiculous."
Dorinda admits that she too was a bit hurt that Bethenny didn't invite her, to which Bethenny replies, "I don't even know you."
Heather gets irritated at this and tells Bethenny that if someone says that you hurt them, the right thing to do is to apologize. "Where's your sensitivity chip?" Heather asks.
"The Real Housewives of New York" airs on Tuesdays at 9 p.m. on Bravo.