'The Walking Dead' Shocker: Fans Who Can't Believe Glenn's Dead Think He May Still Be Alive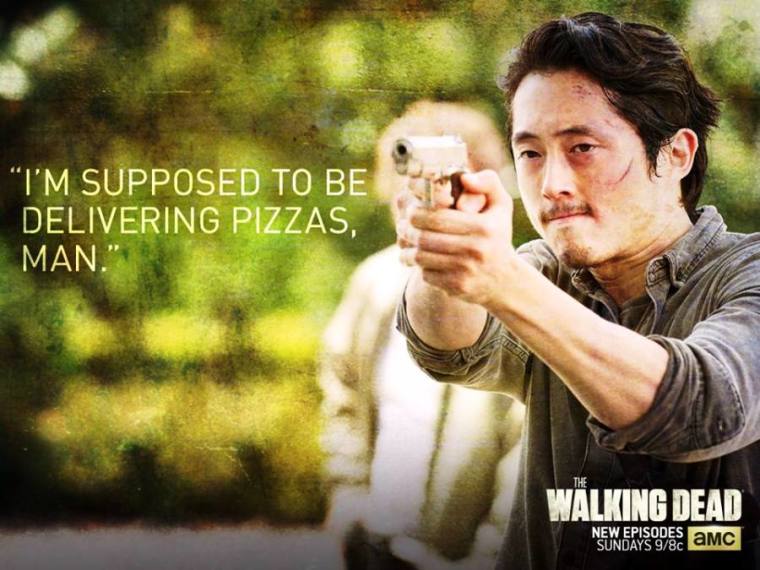 Fans of AMC's "The Walking Dead" still haven't gotten over the shock after one of the show's favorite characters was killed off Sunday.
Glenn, one of "The Walking Dead's" original stars, seemed to have had his intestines ripped off his body by one of the walkers, and fans of Steven Yeun's character remain disbelieving of his demise.
Last Sunday's Episode 3 in Season 6 titled, "Thank You," presented an unexpectedly shocking close with the death of a character considered as the mainstays' moral compass. Fans are now blaming Nicholas (Michael Traynor) for leading Glenn to that one-way alley where they were surrounded by the zombie horde.
With a muttered "thank you," a spaced-out Nicholas, likely still suffering from the aftereffects of his mental breakdowns in Season 5, proceeded to blow his head off, sending both himself and Glenn to the ground amid the teeming walkers.
While the scene closes with Glenn looking panicked as the zombies feed on intestines, it isn't apparent whether the eaten innards belong to Nicholas, or to Glenn himself.
The third episode's final scene, while delivering a whopper to fans, still gives them hope Glenn may still be alive. It could be entirely possible for him to have hidden underneath Nicholas' body as the zombies began to feed, sparing his life in the process.
Nicholas' "thank you," may be interpreted in another way, as well. He may have sacrificed himself to save Glenn's life in gratitude for giving him another chance after he inadvertently caused Noah's (Tyler James Williams) death the previous season.
Another fan theory points out the whole scene may possibly be a figment of Nicholas' hallucination after he zones out on top of the dumpster.
Yeun has also been spotted on the "TWD" set multiple times during the season's second half after the shocking "death" scene was shot, giving credence to the fan theory he may still be alive.
Fans will eventually learn the truth about Glenn when Episode 4, "Here's Not Here" airs on AMC this coming Sunday, November 1, at 8pm CT.