Michael Bisping vs Dan Henderson for UFC 204: Bisping Claims He Will Embarrass and Knock Out Opponent; Fight Card, Date, Tickets & Live Stream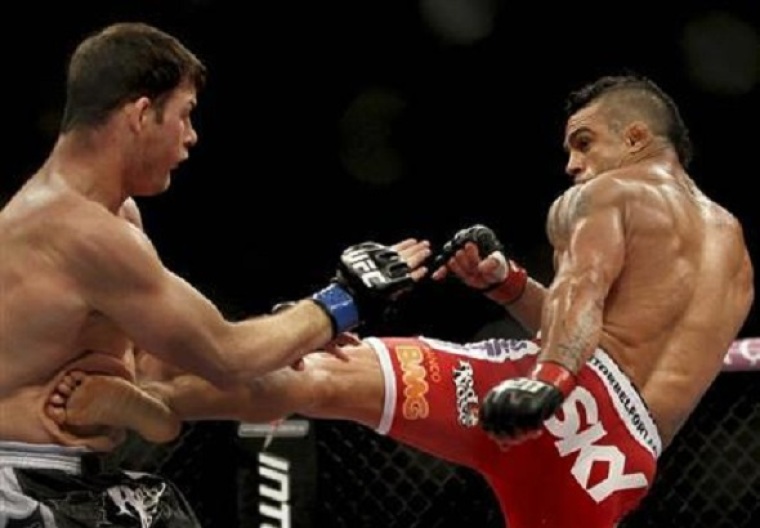 Michael Bisping has an ax to grind against Dan Henderson after the 46-year-old American knocked the lights out of the Briton at UFC 100 back in 2009. It went down as the most devastating loss of Bisping to date, and the current middleweight boss wants to put all that behind him now.
The two are looking to settle the score once again as they contend for the title in UFC 204 this coming October 8 at the Manchester Arena in England.
Bisping's Bold Prediction for the Match
The defending champ has some strong words for Hendo ahead of the fight. "Dan Henderson is going to get beat into a living pulp," Bisping told Champions.co. "I'm going to toy with him for two rounds, I'm going to make him feel old and slow, I'm going to embarrass him, and then in the third round, I'm going to knock him out cold."
But, the challenger is not to be looked down on. Despite his age, Hendo can still prove to be a worthy contender. Earlier this year, he handed Hector Lombard a brutal second round KO at UFC 199.
Henderson also has MMA championships under his belt. He was a light heavyweight champion at Strikeforce and a welterweight and middleweight champion at Pride.
Bisping vs Henderson Should Not Have Happened?
Some MMA fans were criticizing how the Bisping-Henderson pairing came about. While "The Count" is lording it over his division rivals sitting atop the no. 1 spot in the Middle Rankings, Hendo is relegated down at the 14th place.
That means, in order for the match to happen, the top five contenders, Luke Rockhold (no. 2), Chris Weidman (no. 3), Yoel Romero (no. 3), Ronaldo Souza (no. 4) and Vitor Belfort (no. 5), were all been short-circuited.
But for Bisping, he just couldn't care less whoever's in front of him in the Octagon come UFC 204. He said that the kingpin, Dana White, has spoken and Henderson it is.
UFC 204 Fight Card
The English fans will be treated with exciting fights during the match with middleweights Vitor Belfort and Gegard Mousasi also battling it out as co-main event.
UFC 204 will also be headlined by a matchup between light heavyweights Jimi Manuwa and Ovince Saint Preux. Meanwhile, Stefan Struve will take on Daniel Omielańczuk, while Mirsad Bektic clashes with Jeremy Kennedy.
MMA fans can catch UFC 204 on PPV And Fight Pass for live streaming. For more info on tickets, you can head to Eventim.