Victoria Beckham Dismisses Spice Girls Reunion Tour Rumors
Victoria Beckham Dismisses Spice Girls Reunion Tour Rumors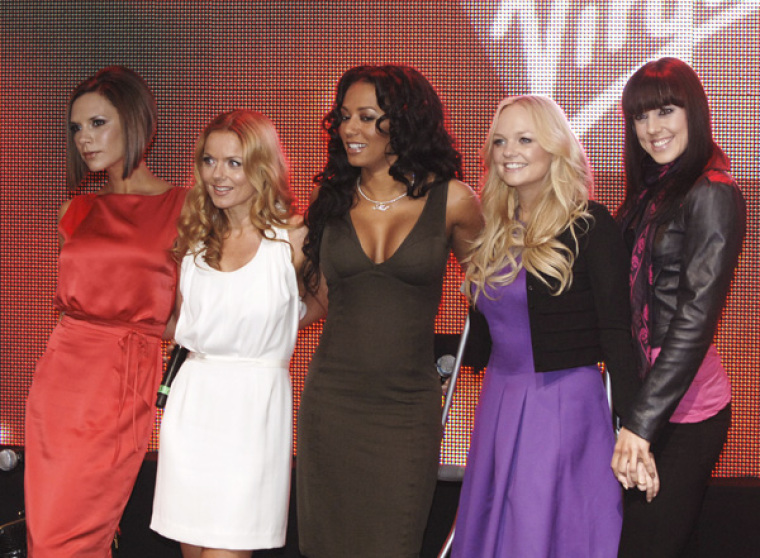 Victoria Beckham recently dismissed rumors that the Spice Girls are going on a reunion tour.
In a recent interview with Vogue before the reveal of her autumn and winter 2018 collection, Beckham vehemently denied the rumored Spice Girls tour. "I'm not going on tour. The girls aren't going on tour," Beckham sai
Earlier this month, Beckham posted a couple of Instagram photos where she and the other members of the Spice Girls -- Melanie Chisholm, Geri Halliwell, Melanie Brown, and Emma Bunton -- along with their former mentor and manager, Simon Fuller, were seen spending some time together.
A few days after Beckham's Instagram posts, TMZ reported that the group had met for a "rough planning" of their world tour. The media outlet's sources also claimed that the Spice Girls were looking to perform first in England and later in the United States.
The same report added that all the Spice Girls members, except Beckham, have been hoping for a reunion concert "for a long time."
However, Beckham had a different explanation of what their meeting was for. "There's something so strong in the message of what the Spice Girls stood for. What is that in the future? What does that look like? We were just bouncing ideas around. Brainstorming," Beckham said.
While the Spice Girls remain in constant communication with each other, Beckham said it "was really lovely" to actually spend time with them.
Meanwhile, Beckham also implied a slight openness to the idea of them performing together again and shared that their reunion would still be very relevant today.
"You know, there's so much bad stuff going on, and the Spice Girls were about fun and celebrating individuality. I think there's so much that the brand can do, and it's such a positive message for young kids," Beckham added.
Even though a reunion concert tour is not on the table, the Spice Girls confirmed that they were exploring other ways where they could work together again. In a statement to Entertainment Tonight, the women confirmed they see "many exciting possibilities" that they can use to "once again embrace the original essence of The Spice Girls."