'Waka Okami wa Shougakusei!' Latest News: Anime Adaptation of Popular Children's Novel to Premiere in Spring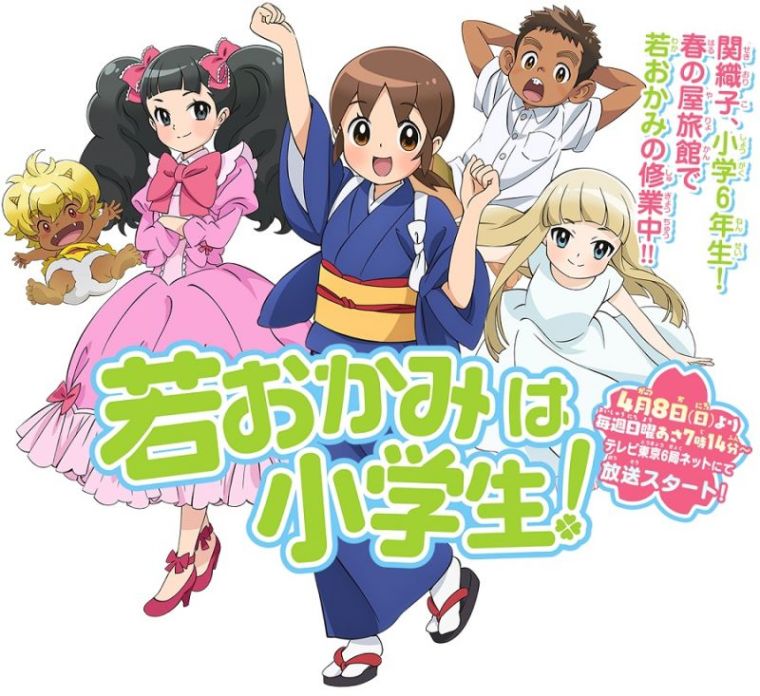 An anime adaptation of the children's novel series "Waka Okami wa Shougakusei! (The Young Innkeeper Is a Grade Schooler!)" has been greenlit for a spring release.
The series, which is written by Hiroko Reijo and illustrated by Asami, tells a story of laughter and tears that revolves around a sixth-grade elementary school girl named Oriko Seki, a.k.a. Okko. After losing her parents in a tragic accident, Okko is forced to move in with her grandmother at a hot spring inn known as "Haru no Ya (Spring House)."
Here, Okko begins her training in the proper way of running the inn. This is also where she gradually grows up with the aid of the ghost Makoto Tachiuri, a.k.a. Uri-bou, and other mysterious friends and entities that are lodging in her grandmother's very accommodating inn.
The officially announced cast members include Seiran Kobayashi as Okko, Satsumi Matsuda as Uri-bou, Nana Mizuki as Okko's rival Matsuki Akino, Youko Asagami as Mineko Seki, Teiyu Ichiryusai as Etsuko Tajima, Masaki Terasoma as Konosuke Minoda, and Etsuko Kozakura as Suzuki.
Japanese animation studios Madhouse and DLE are animating the series under the collaborative direction of Mitsuyuki Masuhara and Azuma Tani. Michiko Yokote handles the series scripts, while Akiko Asaki takes care of the character designs. Masafumi Mima is in charge of sound direction at Techno Sound, while Takeshi Hama handles the music composition.
The original children's novel series was first launched in 2003 and has since been published in 20 volumes by Kodansha's Aoi Tori Bunko imprint. The series has also inspired seven spinoff and short story collections and currently has three million copies in print.
A manga adaptation by Eiko Ouchi was serialized in Kodansha's monthly "Nakayoshi" magazine. It has since been published in seven compiled volumes.
"Waka Okami wa Shougakusei!" premieres on Sunday, April 8, at 7:14 a.m. on TV Tokyo. Information on other broadcast schedules and online resources will be available on the series' official site at a later date.