Washington Redskins vs Atlanta Falcons Live Stream: Watch NFL 2013 Football Online (Fox TV Schedule, Start Time)
The Washington Redskins will go on the road on Sunday to play the Atlanta Falcons in a clash between two teams struggling in the depths of the NFC Conference. Although both teams will have let go of any postseason hopes, they will be fighting to gain a valuable win and hopefully move up to a more respectable position in the conference before the end of the regular season. The game will start at 1 p.m. ET and can be watched online through live stream (details below).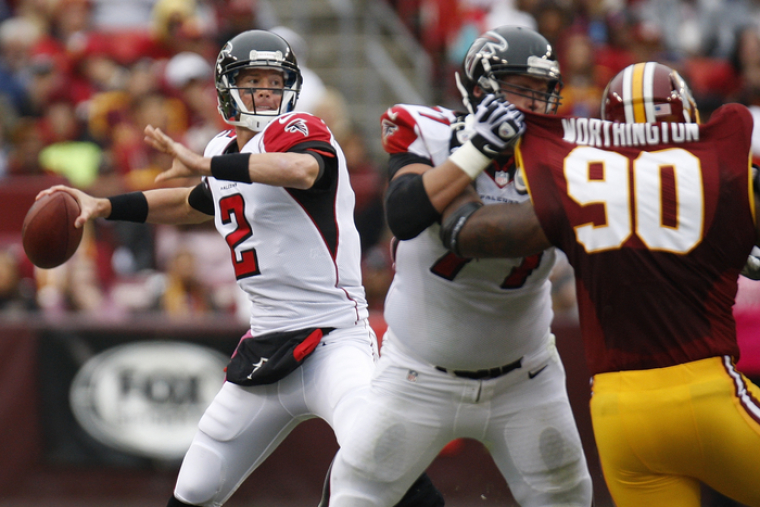 Both of these teams have a record of 3-10 coming into this game, with the Redskins bottom of the NFC East, and the Falcons bottom of the NFC South.
The Redskins seem to have lost all fight and their season has simply gone from bad to worse in recent weeks. About a month ago they were probably still harboring hopes to make the playoffs, however, they have looked null of ideas in offense, and too-often absent in defense in recent weeks.
They have lost 6-27 against the San Francisco 49ers, 17-24 against the New York Giants, and 10-45 against the Kansas City Chiefs over the past three weeks. The results are bad enough, but the nature of the losses and the performances will be cause for more concern in the Washington camp.
Robert Griffin III has been left furious at his treatment by the team, and he is said to be "extremely angry" at being benched by the Redskins. Reports this week have suggested that his season is now over, and Coach Mike Shanahan has reportedly said Thursday the Redskins will sign a quarterback to play over RGIII if Kirk Cousins and Rex Grossman suffer injuries.
With RGIII shutdown for the rest of the season, it is Kirk Cousins who will take over at quarterback. It will be interesting to see how he does on Sunday, but if recent results are anything to go by, the way in which RGIII has been discarded will only have demoralized the squad more.
Meanwhile, the Falcons have had more fight in recent weeks that the Redskins. They defeated the Buffalo Bills 34-31 in Week 13, but fell just short against the Green Bay Packers last week, losing 21-22.
Today's big game between the Redskins and Falcons will start at 1 p.m. ET and can be watched on TV on the Fox network or online through live stream by clicking here.
Washington Redskins vs Atlanta Falcons WEEK 15 NFL PREVIEW 12/15/13