Writer Quits After Loss: New Mexico Lobos Reporter Quits After Loss to Harvard at NCAA 2013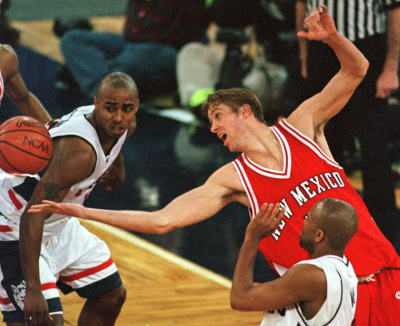 A writer has quit after New Mexico Lobos' loss in the NCAA 2013 tournament this week.
Writer, Dennis Latta, has covered the Lobos for more than three decades, however, he is at the end of his tether following their most recent disappointing showing as New Mexico were knocked out of the tournament in the second round.
No. 3 seeded Lobos has been expected to make the latter end of the tournament, and were certainly expected to win in their second round game against No. 14 seeded Harvard. But they went out limply 68-62 to the Harvard team, to the disappointment of their thousands of fans, and Latta.
The win for Harvard led to much gloating from the university's alum, with NBA player Jeremy Lin tweeted a message of congratulations to the Harvard team after the win.
However, Latta was left disappointed and devastated by the loss. He is a writer for Rivals.com's Loboland. Following New Mexico's loss he penned a column the next day announcing his retirement as well as taking a big hit out at the New Mexico basketball program.
In his piece he wrote that for 32 of his 33 years reporting on the team, he knew the team could fold and lose at any any time, and so he never got his hopes up.
He wrote: "I thought this team was different. I was convinced that this Lobo team was for real. It had experience, a good front line and a good backcourt and good chemistry and was smart. I was wrong."
He highlighted that this year's disappointing exit was made even worse considering the expectations and hopes surrounding the team this year at the NCAA 2013 tournament.
As a result he announced that he was quitting reporting on the Lobos: "No, I've had it. I've been to my last Lobo basketball game after covering the team for much of the last 33 years. Good-bye Lobo basketball."
Here is a video of the New Mexico Lobos fans celebrating after their championship win earlier this year before their NCAA 2013 knock out: