Three things churches can do to change the mental health crisis in America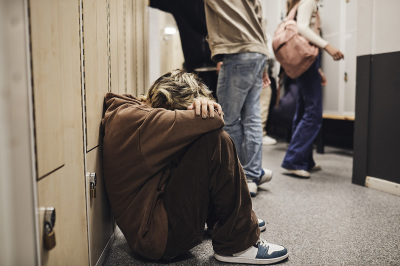 I grew up going to church weekly and was all in as a follower of Jesus at a young age. In the second grade, I began dealing with anxiety, depression, and obsessive-compulsive disorder. It was confusing and consuming.
I longed for help and answers to these challenges from the Church and Christians around me. Yet, this seemed to be a taboo topic that was rarely addressed. When it was, it came with a stigma. The perception was that mental health struggles meant you lacked faith, simply needed deliverance, or had something deeply wrong with you.
It wasn't until later in life through therapy, support groups, and deeper biblical insight that I began to find understanding and experience healing.
Slowly, Jesus brought breakthroughs as I implemented solutions in my life that were both biblical and addressed me as a whole person — one who is spiritual, emotional, relational, and physical.
As our world continues forward after the recent pandemic, the mental-health fallout cannot be overstated.
How can churches respond to this crisis in ways that help rather than hurt? Here are three simple yet powerful ways.
1. Consistently talk about mental health
An 80-year study by Harvard University found that the key to happiness and health is good relationships.
Good relationships include those in which we can talk about anything — depression, addiction, shame — and feel loved and accepted, no matter what.
Ministry leaders can foster these relationships by talking openly about mental health issues in sermons, Bible studies, and with their leadership. 
When we openly discuss mental health challenges, we model God's relationship with us. He knows our struggles and walks alongside us. He cares for us, and he is not afraid of or embarrassed by our challenges.
We can demonstrate God's love by actively listening to any mental-health struggles people share with us. We can care for them by showing compassion and empathy for the very real pain they are carrying. And we can point them toward resources and professional counselors to help.
2. Help people discover the 'why' behind their mental-health struggles
We are created in God's image as relational beings with legitimate longings. These longings included the desire to be loved, accepted, safe, known, and more. When these longings go unmet, or they are outright rejected through painful experiences in life, we may experience mental health challenges.
In my life, a lot of anxiety growing up revolved around the fear of rejection. Subtle painful experiences, such as being called hurtful names by friends and being made fun of led to deep-rooted anxiety. Later, as a young adult, I'd experience automatic negative thoughts such as "they won't like me" when meeting new people, an increased heart rate, and a static feeling in my stomach. 
Ultimately, anxiety about rejection was an invitation to receive what I was truly longing for. It was a signal of something deeper that needed tending to. When I started addressing this anxiety, I began meditating on who God says I am, and allowing myself to be vulnerable with safe friends. I began opening up to experience God and others meet me with love, acceptance and safety in deeper ways. I began to experience true freedom, healing, and connection.
Understanding what's missing — which God-given longing isn't being met — allows us to identify the root cause so we can begin to heal.
3. Help people build daily rhythms

Just like God gave our bodies white blood cells to fight infection and platelets to stop bleeding, he created our brains to be able to rewire and change. It's called neuroplasticity.
When we take steps to renew our minds, God uses every little thought and action to transform our lives through his power. That's why making small changes of thought and action every day can have huge impacts on our mental health.
Identifying and challenging automatic negative thoughts and lies helps us get out of rumination and unhealthy mental cycles.
Deep breathing and extended exercise help slow down our minds and get into our bodies, enabling us to ground ourselves.
Checking in with our emotions helps us identify which of our longings are and are not being fulfilled.
Spending meaningful time with God and safe people helps fulfill our relational longings and gives us safe spaces to process and heal.
Here's my encouragement: Churches can offer real and life-changing help for the mental health crisis. God created us as spiritual, emotional, relational and physical beings, so let's use all the tools we have to help people find freedom and thrive.
For more help responding to the mental health crisis, use my 11-session Free to Thrive video series and study guide. Each session presents biblical teaching, neuroscientific research, time-tested principles, and encouraging stories of people who faced similar hurts and found healing. Learn more at resolutionmovement.org.
Ben Bennett is an author, podcast host, speaker, and the Director of Resolution Movement at Josh McDowell Ministry. He is the co-author with Josh McDowell of Free to Thrive: How Your Hurt, Struggles, and Deepest Longings Can Lead to a Fulfilling Life.