Cancer Made Me Severely Depressed, Then I Got an Unexpected Phone Call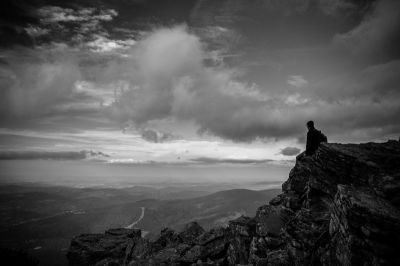 It was 6 p.m. on a Sunday evening. My family had once again gone to church without me, as I was not healthy enough to go with them. So I sat home alone, listening to the radio broadcast of our church's service.
Frustrated and angry, I turned off the radio and walked to the kitchen to find something to soothe the pain in my throat — pain from radiation burns for my cancer. A few years earlier, doctors had found a 5-pound tumor attached to my heart and lungs: Hodgkin's lymphoma. It had taken more than a dozen surgeries to remove the tumor and fix ensuing complications, and now I had started chemotherapy.
When I all I found was milk, I got even angrier and slammed the refrigerator door. I looked at the ceiling and shook my fist as if I was shaking it in the face of God.
"God, I can't stand this another minute!" I blurted.
Then I realized what I had done. I lashed out at God. It truly was my weakest moment.
I shuffled to my office and sat down in my chair, just staring at the wall. I had never felt more alone in my entire life.
Finally my eyes caught a book on the shelf on Depression. A pastor in Oregon who had a nervous breakdown and suffered resulting depression wrote it. I had never read it, but I felt like I needed to read it right then.
I realize depression is a serious disease. I'm not suggesting all a person needs to do in the face of depression is read a book. But God wanted me to read that book that night.
I read the entire book in one sitting and was encouraged by the author's transparent odyssey through depression. I gained strength from the Scripture he used in telling his story. I wrote down the references on an index card, along with the steps the author took that delivered him from depression.
I was so convicted, that I slipped to my knees and humbly asked God to forgive me for my angry outburst. When I finally fell asleep that evening, there was peace.
The next day, my wife urged me to get out of the house for a few hours. She suggested I go to the office, check my mail and come home if I did not feel well. So I did.
I was not in my office for five minutes when my assistant called me, saying there was a pastor on the line wanting to speak with me.
"He said it's personal and urgent, but he won't give his name," she said. Reluctantly, I took the call.
"I'm suffering from acute depression," the pastor said. "Can you help me?"
As he told me his story, I remembered the index card in my shirt pocket. I pulled it out and shared verses from the Bible, and steps he needed to take. It was exactly what he needed to hear. He asked how I knew so much.
"Let me tell you what happened to me last night," I said.
I told him about my weakest moment. When I finished, we were both weeping. He promised he would seek professional help. We prayed and said good-bye. To this day, I don't know his name.
But that's not the end of the story.
Later that day, I received a phone call from a dear friend who was the head coach of a local university's football team. He wanted me to come to a party on campus that night for just a few minutes, as it would mean so much to the players. Reluctantly, I agreed to come.
When I arrived, a huge lineman walked up to me and said, "Can I speak with you?"
He said he prayed for me every day. After every practice, his coach would have the entire team take a knee on the 50-yard line and pray God would heal me.
"I believe God will heal you, but I need to ask you something," the lineman said. "Last night, I was driving back on campus and got this strong urge to pray for you. I've never experienced anything like that before — it wouldn't go away. I pulled my car off the road and prayed. When I finished, I noticed it was a little after 6 p.m."
He paused. "Did anything unusual happen last night at 6?"
It suddenly dawned on me: in my weakest moment, when I was angry at God and felt alone, God was still there. He loved me so much He had a football player pray for me when I could not pray for myself.
I'd never been lower in my whole life, but at the time of my greatest need, God was there just as He promised. And He'll be there for you too. When you find yourself all alone, that is when you will find you were never really alone: God was there along your side the entire time.