Earth Day: How this nonprofit ensures it doesn't injure environment, people they're serving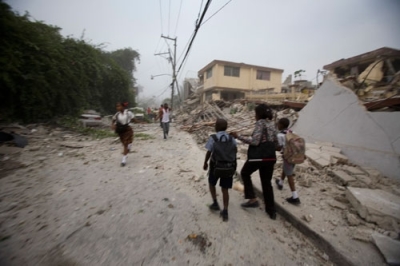 Many people would agree that there are a few wrong attitudes that can lead to negative outcomes for short-term missions:  the "great white savior" complex; assuming that you understand a culture better than the people inside of it; mission trips with no follow up; or bequeathing gifts that have no value or require maintenance beyond the capacity of the local population.
Beyond ensuring they don't share any of these attitudes, how much should mission groups also be concerned about their impact on the natural environment?
"Poverty and environment are closely interrelated. Whilst people living in poverty are seldom the principal creators of environmental damage, they often bear the brunt of environmental damage and are often caught in a downward spiral, whereby the poor are forced to deplete resources to survive, and this degradation of the environment further impoverishes people."
The poor rely on food, water, and other natural resources to survive. Their livelihoods are connected to environmental issues to a greater degree than any other population. So when development organizations don't consider the effect they are having on a local environment, they risk injuring not just the local environment but the very people they are attempting to serve.
That's why international nonprofit LiveBeyond, based in Thomazeau, Haiti, has made it a priority to use alternative energy sources to run its 63-acre base since the very beginning.
"We've been in Haiti for almost ten years now, and the air quality has just gotten worse and worse," said Dr. David Vanderpool, founder of LiveBeyond. "That's why we've always had alternative energy sources. We use inverter systems to store power, but now our entire electrical grid runs primarily off of solar power. In fact, we had a generator expert down recently who found and fixed some inefficiencies in our system, and our generator hasn't had to kick on in over a month. We are doing our best to negate any negative impact we have on the local environment so that we aren't hurting the very people we came to help."
In just three years since installing the first solar panels at the LiveBeyond base, they have offset over 51,000 lbs of carbon dioxide emissions.
And that's not the end of their environmental impact. On the LiveBeyond demonstration farm, David S. Vanderpool, the program coordinator for agriculture, has seen a change in rainfall patterns because of his planting initiatives.
When LiveBeyond purchased the base in Thomazeau, Haiti, in 2012, the land was destitute. David S. Vanderpool relates: "When we bought the base, there was one tree on the entire plot. We now have hundreds of moringa, papaya, and neem trees planted across the base, along with our ever-growing banana and plantain grove on the LiveBeyond demonstration farm. We have over 1,000 plants in the grove now. I've noticed that it rains more in our village now than it did a few years ago. That's because the trees actually hold moisture and affect weather patterns."
David regularly hands out moringa seeds to locals to plant around their houses. The trees are fast growing, and they provide shade and even food as moringa leaves are highly nutritious. Their root systems also act to hold soil, preventing further erosion on the mountainous terrain, a serious problem in the largely deforested country of Haiti.
In addition, David frequently takes teams of American volunteers on hikes through the surrounding mountains and hills, planting seeds as they go. He also teaches classes at the LiveBeyond base on appropriate agriculture techniques like pruning, compost, and grafting techniques. These efforts cost little to nothing, but they make a world of difference – not just on the livelihoods of the poor, but on the environment as well.
This Earth Day, consider partnering with an organization like LiveBeyond or The Haiti Tree Project, another organization dedicated to the reforestation of Haiti, so that you can not only improve the conditions of the environment but the livelihoods of the impoverished as well.
Devin Vanderpool is the Director of Communications for LiveBeyond, a non-profit humanitarian organization founded by David & Laurie Vanderpool in 2005 dedicated to providing sustainable solutions for poverty in Thomazeau, Haiti.