Helping your college student rediscover hope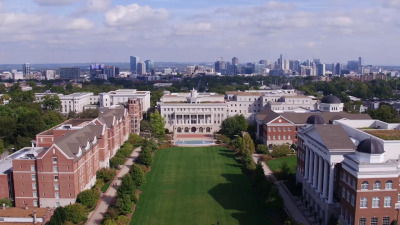 One weekend, when my kids were in middle and high school, they came to my wife, Susan, and me and asked for a "tech-free" weekend. Imagine that — kids asking for time away from screens and devices. Admittedly, this was harder for us as parents than the kids, though we treasured a weekend of connecting while playing board games and spending time outside.
Our kids crave connection, and in some ways, our technology has increased opportunities for it, and it has also isolated us from more natural forms of it. Johann Hari's influential work Lost Connections on depression, anxiety, college-age youth, and social media use has never been more relevant. Interestingly, college students are often cited as being some of the most impacted by feelings of loneliness and helplessness when it comes to finding real connections in an increasingly digital world.
The latest news reflects what we already know: we are in the midst of mental health crisis among our nation's young adults. In a recent survey conducted by Gallup and the Lumina Foundation, an alarming 40% of undergraduate students have considered dropping out due to emotional stress and personal mental health issues. This number has spiked from the previous year's data, which reported 34%.
And it's not just a matter of academic pressure — it's personal. The survey report found that young adults are disproportionately affected by anxiety and depression, with half of 18 to 24-year-olds reporting such issues in the year 2023.
And then there's COVID, which has exasperated feelings of isolation. Sian Beilock, a cognitive scientist and president of Barnard College, writes in a recent essay, "The Kids Aren't All Right: But Hope Can Help":
"The events of the past few years have literally changed the brains of our young people, prematurely aging them in ways we used to primarily see in children suffering from violence or neglect."
She goes on to note the importance of cultivating a sense of hope in very tangible ways:
"Overcoming the levels of despair we're seeing will require helping young people build lasting resilience and connect to a deeper sense of purpose."
We witnessed that desire for a deeper sense of purpose recently with the weeks-long revival at Kentucky's Asbury University (and other campuses) which saw students yearning for connection to something beyond themselves, yearning to find hope in the midst of a chaotic world. So, what can we as parents do to help our students rediscover hope?
Empower them with frameworks
The summer before my first year at college, my mom and dad gave me a long list of do's and don'ts before driving me down to campus. Once there, I met a kid on my wing whose parents provided different instructions: "Remember two things: that we love you, and that you're baptized."
I thought he'd gotten off so easy. No rules! Then I realized they had done something much more comprehensive and much more helpful: he had a framework for relationships and systems to help him navigate the best choices. College preparation is an opportunity to remind our children that they are capable, competent and enough — a chance to provide ongoing emotional support while encouraging their independence. We can best parent college students through connection rather than control, guiding them to make decisions that align with their values while recognizing there are no shortcuts or easy answers in this brave and often uncomfortable place of helping them ride the tension of testing their wings.
Exercise habits for connection
In his book, Atomic Habits, author James Clear adapted a saying from the Greek poet Archilochus: "You do not rise to the level of your goals. You fall to the level of your systems." Habits are those systems that help propel our direction toward (or away) from our goals.
If connection is the goal, what habits can we promote with our students to help them foster friendship and purpose? First, remind them of their deep roots. As college students navigate the transition to adulthood, it is now more important than ever to offer support tools and ways of staying connected with home. Sending care packages and positive notes, providing emotional support through phone calls, Facetime chats or text chains — these small gestures can make a big difference for college students trying to find their place.
Then, encourage them to leave the nest! The digital revolution means today's students are spending more time alone in their dorm rooms on social media and video games than outside on lawns, grabbing dinner with peers or engaging in the ample in-person activities campus life offers. Those in-person activities can help cultivate unlikely friendships that are crucial ingredients of health and well-being.
Churches and other institutions can also help. A recent Baylor study revealed that students who connect with a congregation during college are healthier physically and emotionally — and these results hold true even after college. The study states that by participating in weekly spiritual activities, college students created more meaningful relationships and discovered paths of personal growth.
Encourage resilience

Belmont University welcomed a special guest last year: country music legend Garth Brooks! He gave an inspiring performance, interspersed with answering the questions of Belmont's students. One young woman, troubled by Russia's invasion of Ukraine days before this event, asked a question that especially resonated: "It feels like the world is falling apart, and it feels like it's self-indulgent for me to want to be a songwriter. Can you help me?" His response was encouraging, as he reassured her that now more than ever her voice matters. Rather than thinking of songwriting as a matter of self-indulgence, he encouraged her to double down because she could help create the beauty the world desperately needs.
What is your student passionate about? Fan that flame and allow them to uncover joy in unlikely places. It may be the key to unlocking a creative vision and releasing newfound energy.
Our students need to know they can help inspire beauty, love and hope in others through their resilience. Teaching them to recognize their own inner strength is an important way to help them find happiness within and also understand the power of hope for those around them.

Through their resilience, hope can be shared with the world in meaningful and lasting ways.
Dr. Greg Jones serves as president of Belmont University in Nashville, Tenn.