How a Kingdom mindset changes your approach to Scripture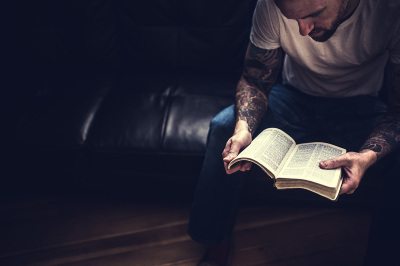 "Jesus swept," my Sunday school teacher, Helen, stated with passionate conviction.
I was 12 years old at the time, living in the rural Philippines as the daughter of missionaries from Wycliffe Bible Translators USA. Although I knew Helen had misquoted John 11:35, I also knew it would be culturally offensive to contradict her, so I bit my tongue and watched Helen pantomime using a broom on the bare dirt outside our small bamboo and thatch church building. Smiling broadly, she described how Jesus was such a humble servant that he was willing to sweep someone's house.
It was a nice idea — but not what John 11:35 actually says: "Jesus wept."
After church, I asked my dad how Helen, an intelligent and godly woman, could have misunderstood such a simple passage. He explained that, even though Helen spoke little English, her former pastor had taught exclusively out of a particular English translation of the Bible, believing it carried mystical power.
One leader's view of Scripture as a magical talisman rather than the transforming Word of God compromised Helen's ability to interpret portions of it correctly and caused her to pass the confusion on to her young students. Now that Helen had the New Testament in her own language, she was beginning the slow, difficult process of relearning stories she thought she knew.
Perhaps you're shaking your head at this pastor's ignorant theology. But we often mishandle Scripture just as badly in our culture.
Scripture as a tool in human hands
"What does your memory verse say?" I asked my oldest daughter through teeth clenched in frustration.
She looked up at me, her eyes blazing. "Do everything without complaining and arguing, so that no one can criticize you. Live clean, innocent lives as children of God, shining like bright lights in a world full of crooked and perverse people" (Philippians 2:14-15). She quoted the New Living Translation with perfect diction and calculated sarcasm. At just six, my daughter was already skilled in pushing my patience to the limit.
"Pick up your toys right now. I don't want to hear another word," I growled as I stepped out of her room.
"Fine," my daughter called after me. "You won't hear it, but I'll still be complaining in my head!"
I was trying to use the Bible to magically change my child's attitude. The verse may have modified her behavior for a while, but it was doing nothing to change her heart. For that matter, it wasn't changing my grumbling heart either!
Why do I so often use the Bible as a tool to prove a point or to bring about a desired result in myself or others? Because this approach to Scripture puts me in control. I can just find the right passage to apply spiritual pressure, sway an argument or justify my stance on an issue. It feels clean, safe and easy.
Treating Scripture as a tool in human hands — valuable primarily for its use in modifying outward behavior, maintaining control, gaining knowledge or accomplishing spiritual goals — creates a false sense of power over our surroundings and circumstances. When we approach Scripture with a religious mindset, one that says we can work to gain God's favor or manipulate him to do what we want, we reduce the power of God's Word to a neat list of instructions with predictable results.
Luke 13 describes how Jesus dealt with someone who embraced this approach. While teaching in the synagogue one Sabbath, Jesus healed a woman who'd been severely crippled by an evil spirit for 18 years (v. 10-13). Instead of rejoicing in God's power and compassion, the synagogue leader reacted with indignation: "'There are six days of the week for working,' he said to the crowd. 'Come on those days to be healed, not on the Sabbath'" (v. 14b, NLT).
Jesus responded pointedly, revealing disturbing inconsistency in the man-made rules surrounding God's command to rest: "But the Lord replied, 'You hypocrites! Each of you works on the Sabbath day! Don't you untie your ox or your donkey from its stall on the Sabbath and lead it out for water? This dear woman, a daughter of Abraham, has been held in bondage by Satan for eighteen years. Isn't it right that she be released, even on the Sabbath?'" (Luke 13:15-16, NLT).
But Jesus didn't just challenge this religious, rule-bound approach to God's Word; he went on to present an alternative: a mindset rooted in God's Kingdom.
Scripture as a tool in God's hands
Luke 13 immediately continues:
Then Jesus said, "What is the Kingdom of God like? How can I illustrate it? It is like a tiny mustard seed that a man planted in a garden; it grows and becomes a tree, and the birds make nests in its branches."
He also asked, "What else is the Kingdom of God like? It is like the yeast a woman used in making bread. Even though she put only a little yeast in three measures of flour, it permeated every part of the dough" (v. 18-21, NLT).
The imagery Jesus used demonstrates gradual, fundamental change and growth from within. The Kingdom of God, all that's surrendered to God's sovereign rule, spreads life and transformation by its very nature — not because people force change through their own effort.
No matter how good our intentions may be or how carefully we handle Scripture, we can't determine how other people will receive it. A passage designed to bring repentance can instill paralyzing fear. Biblical concepts viewed through ingrained cultural lenses can warp into ideas that bear little resemblance to the intended meaning.
Approaching Scripture with a kingdom mindset means acknowledging that we can't bring about true spiritual transformation apart from God's Spirit; God is in control, and He must be the one to wield his Word to effect real change. He gives Scripture its potency: "For the word of God is alive and powerful. It is sharper than the sharpest two-edged sword, cutting between soul and spirit, between joint and marrow. It exposes our innermost thoughts and desires. Nothing in all creation is hidden from God. Everything is naked and exposed before his eyes, and he is the one to whom we are accountable" (Hebrews 4:12-13, NLT).
The imagery here is uncomfortable, messy and completely outside of human control. Being flayed open and laid bare before God feels terrifying — but the same words that expose thoughts and motivations also cut away spiritual disease, bringing life and freedom.
When people interact with God's Spirit through his Word, real transformation can begin in individuals and entire communities, like the Migaama people of Chad. For generations, the Migaama community has lived with division between opposing religious groups and conflict among local leaders, but in December of 2021, representatives from the entire region set aside their differences and came together in joyful unity for an event celebrating the arrival of the Migaama New Testament. God brought stunning peace through Scripture before most of the people had even read it! And he's working just as powerfully in thousands of communities around the world, simultaneously making millions of unique souls into new creations through his Word.
A weight lifted
The work God does through his Word is too powerful and expansive for people to control. It escapes human constructs, breaks societal norms, supersedes language, challenges every culture and retains its strength through every generation. God's people can — and should — read, memorize, obey, share, study, teach and translate Scripture, but we must surrender the ultimate results to the one who inspired it.
Although God's timing and ways may differ from your desires, you can trust him to be faithful as He works through his Word: "The rain and snow come down from the heavens and stay on the ground to water the earth. They cause the grain to grow, producing seed for the farmer and bread for the hungry. It is the same with my word. I send it out, and it always produces fruit. It will accomplish all I want it to, and it will prosper everywhere I send it" (Isaiah 55:10-11, NLT).
Approaching Scripture with a kingdom mindset not only allows you to understand God's heart as you're transformed by His Spirit, but it also lifts the weight of misplaced responsibility for spiritual outcomes. God is in control, so you can release your expectations, meet Him in His Word and join in the kingdom work He's already doing.
Beth Matheson is a writer for Wycliffe Bible Translators USA. She and her husband, Mike, both grew up overseas as the children of missionaries and have served with Wycliffe USA since 2004.