How to Have a Very Merry Christmas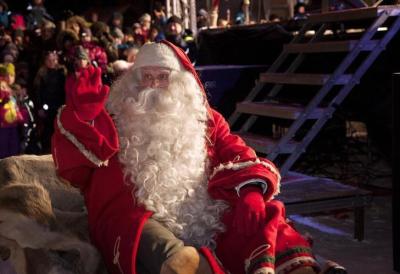 It's one thing to wish folks a merry Christmas, or to wish for one ourselves. But the proof can sometimes be far from the figgy pudding (which, though scrumptious, doesn't contain a single fig?). If you're like me, you know that the busyness of life, and world events, endanger what could otherwise be a very Christ-centered, truly merry Christmas. How can we get beyond just wishing each other a "Merry Christmas" and increase the odds that it will truly be rich and meaningful, worthy of the merry monicker? Here are a few simple, significant things you can do to fight back and do all you can to ensure that this Christmas doesn't pass you by:
READ: To build your faith, lift your Bible. Before Christmas day, read chapter one of Luke's Gospel and Luke 2:1-20 – in a quiet, undistracted place. Before you begin reading, ask God to slow you down, open your eyes, and help you marinate in the miracle of what Christmas is truly about. And, to be clear, we all know that Jesus wasn't born on December 25. But the date provides each of us with a chance to join with others around the world, to simultaneously marvel at the greatest gift ever given.
LISTEN: Listen to a Christmas podcast or two to help get into the real spirit of Christmas. Romans 10:17 (NIV) says, "Consequently, faith comes from hearing the message, and the message is heard through the word about Christ." When you listen to solid, Bible-centered preaching, you are listening to "the word about Christ" – and it will, like reading the Bible, build your faith. (For the next few days, as a Christmas gift to my readers, we've giving away two free, inspiring Advent podcasts on CourageMatters.com).There is a difference between solid, Biblical preaching and merely motivational messages devoid of biblical truth. Listening to messages that are not centered upon the Bible is akin to filling up on cookies, cake and candy when you could be feasting on solid, nutritious food. If you fill up on the good stuff, you'll find that your cravings for things that aren't good for you will greatly diminish. Read and listen to Bible-centered teaching and your entire life will positively change.
SURRENDER: I've found that I can be filled with the Holy Spirit as often as I wish. You can, too. The Holy Spirit is a gentleman, and he fills us when he is truly welcomed. Ephesians 4:30-32 (NIV) says,
"And do not grieve the Holy Spirit of God, with whom you were sealed for the day of redemption. Get rid of all bitterness, rage and anger, brawling and slander, along with every form of malice. Be kind and compassionate to one another, forgiving each other, just as in Christ God forgave you."
The Christmas season, with all the opportunities for reunions among friends and family, can be a stark reminder of broken relationships, unkept promises and unpleasant memories. It can trigger an unintentional cycle of relational frustration. If we're not careful, the season can be a recipe for grieving the Holy Spirit, not being filled with him.
The best way to welcome the Holy Spirit is to empty ourselves of bitterness, unforgiveness and all conscious sin. When we struggle with forgiveness, it can be a sign that we've lost sight of how God, through Christ, has forgiven us. Forgiveness isn't part of the gospel – it is the gospel. Remember, there is no good news without the good news. As for bitterness, it's never beneficial to anyone. When we tolerate bitterness, we're not merely affecting others, but also ourselves. Think about it: has bitterness ever been beneficial to you?
If you truly ask Jesus to help you, he will. He is the author of everything merry. True forgiveness and the abolishment of bitterness will take you deeper and higher with God every single time.
There you have it. A few simple, significant things you can do to increase the odds that this Christmas will be truly merry for you. In that spirit, I wish you and yours a very Merry Christmas. Next week, we'll explore what you can do to increase the odds of having a happy new year.
Author Info: Michael Anthony is the author of the book "A Call For Courage: Living With Power, Truth, and Love In An Age of Intolerance and Fear," a speaker and blogger (CourageMatters.com), and lead pastor of Grace Fellowship in York, Pa. His opinions expressed in this piece are his own.