Jonathan Sandys, the man who could call Churchill 'great-grandpapa,' dies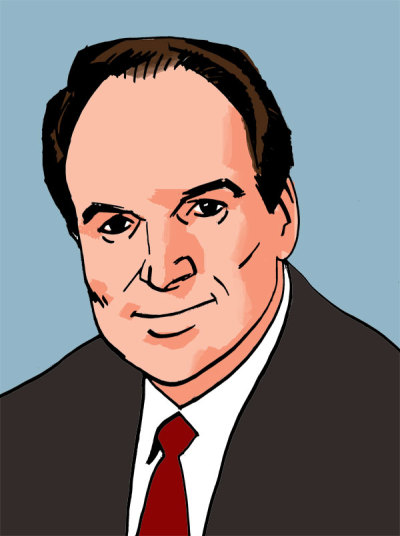 Jonathan Sandys, the great-grandson of Sir Winston Churchill, died December 29 in a London hospital, of chronic lung disease.
Sandys forged new ground in Churchill studies by exploring in depth his great-grandfather's faith, in God and Churchill, a book Jonathan and I co-authored.
Jonathan leaves behind his wife, Sara, and two young children. He also leaves the world a volume that shows how God works through people who had been tossed on history's trash heaps, marked as failures by the haughty establishments of their day, and, as the front cover reads, "How the great leader's sense of divine destiny changed his troubled world and offers hope for ours."
Failures, rejections, and comebacks constituted the story of Winston Churchill, and, on a smaller—but no less painful—scale, of Churchill's great-grandson, Jonathan Sandys.
Jonathan never knew his great-grandfather personally, Churchill having died a decade prior to Jonathan's birth. However, Jonathan said that from childhood, "my sense of identity was framed in part by the knowledge that I was descended from one of history's great heroes."
Jonathan Sandys' life in some ways paralleled Churchill's. His great-grandfather struggled with bouts of depression so deeply and so frequently that Churchill gave it a name—"Black Dog". Jonathan would know such emotional despair at times. Yet, as I can attest, like Winston Churchill, Jonathan Sandys refused to allow his "black dog" periods to trap him in its tight jaws.
Jonathan also struggled in school, as his great-grandfather before him. Winston's own father scorned the boy as hopeless as a scholar. Jonathan did not have to bear such mockery from his own parents, but dyslexia hampered his capacities as a student.
This is remarkable to me, who spent a year in constant interaction with Jonathan in the writing of God and Churchill. He was determined to both write himself and review what I had written with meticulous attention, though reading was an immense challenge. I saw the pluck and determination that, on a much larger scale, had enabled his great-grandfather to keep standing and leading Britain to victory when, in 1940, defeat seemed almost certain.
Despite the dyslexia, Jonathan said, "I became a self-taught historian, consuming all the books I could find about Churchill and his era." That research brought Jonathan to the realization that "though he was arguably the greatest leader of the twentieth century, he was only a man, not a god—no better or worse than any of us."
Jonathan found "that someone as great as Winston Churchill had faced personal challenges similar to my own—difficulty in school, rejection, and an early reputation as a failure."
Surprisingly, the discovery of Winston Churchill's humanity gave Jonathan a new view of his own identity and purpose. "When I realized that I could not rest my identity in someone who was just as much a frail human being as I was, I decided to step out of his shadow and embrace my own identity."
In 2005 Jonathan embarked on a public speaking career, focusing on his great-grandfather. He wanted to write as well as speak. Jonathan prayed, asking God to show him a topic of focus neglected by the vast Churchill literature, something unique he could share with audiences.
"I decided I must explore more deeply great-Grandpapa's personal faith." Jonathan had previously concluded that Churchill's references "to Deity and Christianity were merely political platitudes." Yet his research told Jonathan otherwise.
Jonathan went to Sir Martin Gilbert, the official Churchill historian—and the greatest—to test Jonathan's conclusions that there was much more there than had been covered. Gilbert "encouraged me to press on," and said there was 'loads of information on the topic that others had not considered in depth."
"Martin made me promise the same promise that was exacted from him in the 1950s that if I'm going to write about my great-grandfather, then I must stick to the letter of the law when it comes to history; I must not embellish anything; I must tell the absolute truth about Churchill, warts and all."
Reviewers of God and Churchill have positively acknowledged the honesty with which we wrote the book. Jonathan's own determination to not overstate Churchill's Christianity tempered my pastoral predisposition to show Churchill as an enthusiastic evangelical. Churchill was a Christian in his worldview, respect for the Bible, and sense of God's presence and guidance personally, but an evangelical as currently understood, he was not.
Yet, in a sense Churchill led his great-grandson to the Lord. As Jonathan studied Churchill's faith, he decided to settle his own commitment to Christ. I was privileged to baptize Jonathan at Houston's Second Baptist Church on a stormy spring Saturday night in 2015.
A year earlier, Jonathan and I had met for the first time in Houston, where he resided as the base for his American speaking tours. A mutual friend had told Jonathan of my own interest in Churchill, and that I had had a career in journalism, government and church ministry, and could perhaps understand the spirituality of a political leader.
Thus was born God and Churchill, which was published in 2015 by Tyndale House in the United States and SPCK in the United Kingdom.
And thus also was fulfilled an important part of the destiny of the man who loved to call Sir Winston Churchill, "Great-Grandpapa".
James Humes, noted historian and presidential speechwriter for Eisenhower, Nixon, Ford, Reagan, and H.W. Bush, and who also knew Winston Churchill personally, summed it up well: "I have known four generations of the Churchill family. Jonathan Sandys has both the vision and the voice to carry forth the legacy of his great-grandfather and is well worthy to offer this account of Churchill's life and faith. God and Churchill has earned a place next to the greatest books ever written on the master statesman."
Mission accomplished, Jonathan.
-End-
Wallace Henley is senior associate pastor at Houston's Second Baptist Church, and Chair of Belhaven University's Master of Ministry Leadership degree. He is a former White House and Congressional aide, and co-author of "God and Churchill", with Winston Churchill's great-grandson, Jonathan Sandys.