What to make of the The Chosen's response to the pride flag controversy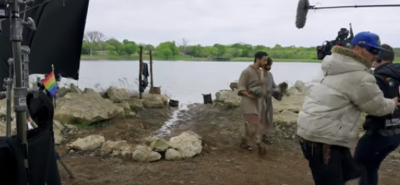 Dallas Jenkins, producer of "The Chosen," has responded directly to the question of why a crew member of the hit series about Jesus was allowed to display an LGBT pride flag on set, in particular during "pride" Month. What should we make of his very candid and personal response?
When I began to read about the controversy online, I tweeted, "Here's a simple question for @thechosentv that can remove all controversy and concern. We understand that not every crew member you hire will hold to biblical values, but can you state here unequivocally that you the producers of The Chosen reject the celebration of Pride Month?"
I then added, "For those who don't know why I asked this, it's because The Chosen is now under fire because an LGBTQ Pride flag was spotted on-site during a recent film shoot. We just need The Chosen to say emphatically that they do not celebrate LGBTQ Pride (while still loving the people)."
What, then, did Jenkins say?
My goal here is not to fuel the fires of Christian gossip, nor is it to deepen the controversy. On the contrary, I want to respond in the most constructive and helpful way possible. But before I interact with what Jenkins had to say, let me share two comments that were made in response to my radio show where I commented on his YouTube video.
One listener wrote, "Thank you for your compassionate insight. The Chosen has brought me back to the Bible. It hurts me to see people wanting to boycott and stop this beautiful message from being spread. The world needs more compassion" (my emphasis).
Another wrote, after expressing his agreement with my position (which I'll share shortly), "The Chosen played an impact upon ME being saved by Jesus."
So, whatever issues you or I might have with the series in terms of biblical accuracy, let's not forget the positive impact it is having on multitudes of viewers. (For my friendly disagreement with one episode, see here.)
In his response, Dallas Jenkins explained that he does not respond to social media critics but rather seeks to honor the Lord. Good for him! His reason for putting out the video was to help viewers who might have been confused by the reports they read online. That was his target audience.
He also realized, quite rightly, that with every episode, "The Chosen" would lose certain viewers, since someone, somewhere will always be offended by something. Again, good for him in setting the goal of honoring the Lord rather than pleasing people. Inevitably, if you please one group you will alienate another. Pleasing God is what counts.
As for the specific controversy, he explained that "The Chosen" is not a church or a ministry, and as long as someone does their job, they are welcome. This would be like a Christian-owned construction company hiring non-Christians, as long as they did their jobs.
Jenkins also noted that Solomon built the Temple with the help of non-Israelites (= idol-worshipers) like Hiram. Surely, he and his team could produce a quality series about Jesus with the help of non-believers too.
Of course, it would be great if every member of every crew associated with "The Chosen," including every camera person, every makeup person, every IT person, every wardrobe person, every set building person, every marketing person — you get the idea — was a committed Jesus-follower. And it would be amazing if every shoot began with joint prayer.
But again, this is not a church or a ministry, and I fully respect what Jenkins explained.
As for the pride flag that was displayed, Jenkins made a few things clear.
First, the flag was displayed by a hardworking crew member whom he appreciated; second, this person always had the flag on his camera (in other words, this was not specifically about pride month); and third, since Jenkins saw how more and more Christians have been forbidden from sharing their views while doing their jobs in other settings, he did not want to be guilty of that on his set.
In other words, if it would be wrong for a secular movie producer to forbid a Christian from wearing an "Only Jesus Saves" t-shirt, it would be wrong for him to forbid one of his workers from wearing an LGBT pride shirt. In that same spirit, a worker could wear a MAGA hat or Biden-Harris hat, as long as they did their jobs. (Some viewers have asked if a Satanic symbol would be accepted on site or if Jenkins would tolerate a Confederate flag. These are fair questions.)
As for his personal views, Jenkins explained that he is a conservative Evangelical who does not celebrate pride month. At the same time, he does not police what his actors and crew do on social media, and they can express themselves freely, even if he differs.
But it is at this point that I take issue with Jenkins and encourage him to offer a public apology.
That's because some of the show's prominent actors had some ugly words for those who took issue with the pride flag. As reported on the Not the Bee website, "Multiple 'Chosen' actors who portray Jesus' disciples decry 'homophobia and ignorance' of fans after show defends LGBT flag on set."
So, some of the very people who were part of the crowdfunding of "The Chosen" and some of the people who represent the core viewers of the program were trashed by some of the show's prominent actors. Surely, this is not the kind of thing where you say, "Hey, everyone is allowed their viewpoint, and I do not police what they post." Rather, at this point, it's important to show some solidarity with your viewers and not just with your employees.
The fact is, without the viewers, there would be no employees. Shouldn't this be a real concern, not out of a desire for fame or fortune but out of Christian love and ethics?
To give further context to the online interaction in question, Giavani Cairo, who plays the apostle Thaddeus, tweeted, "Another one of the actors on 'The Chosen' here. Anyone who is going to go at one of our family members for something like this, is no fan of ours. They can close the door on the way out 'Love one another as I have loved you' We stand with our brother."