Mother's Day for Rohingya Mothers in Refugee Camps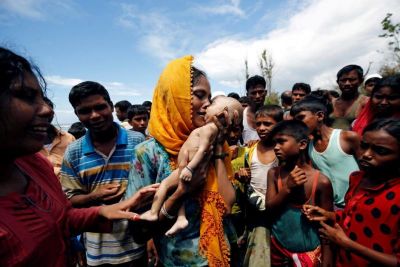 This Mother's Day marked nine months since the Burmese army violently pushed the Rohingya people into the Bangladesh. As many mothers had brunch in fine china, received bouquets of tulips and made new memories with their children, a genocide has been happening.
In August 2017, nearly 700,000 Rohingya people fled persecution and the destruction of their homes in the northern end of Burma, seeking refuge in neighboring Bangladesh. In this calculated attack, the Burmese army burnt homes across Rohingya villages. Rajuma Begum, a new mom celebrating the birth of a healthy baby, was in her home with her 9-month-old Sadeq when her village, Tula Toli, was attacked and homes were set on fire. Her parents, two sisters and a brother were killed. "My baby was in my lap when the soldiers hit me and he fell out of my arms," she says. Soldiers snatched Sadeq up and threw the baby into the blazing fire, beat Rajuma until her jaw broke and then raped her. It was hard enough to get married as a Rohingya living in Myanmar —between government permits and restrictions on birthing children— and then to have to hear her child's screams mingle with her own. Rajuma relives her trauma every day. Her searing story is similar to hundreds that we have recorded in the Kutapalong refugee camp.
Rohingya women and girls were systematically raped at the hands of Myanmar's soldiers and militiamen. Systematic rape of minority community women has long been a tool of the military's domination, control and punishment in Myanmar. In 2011, Burmese leader Aung San Suu Kyi criticized the military for this pattern of abuse. Now that she is in office, and most of the sexual violence impacts the Rohingya, she joins the rest of her government in silence and denial.
The Rohingya are indigenous people living in their ancestral homeland—Arakan. Arakan state, now called Rakhine, has been an independent state where Buddhist and Muslims co-existed for centuries ruling themselves.
Aid workers have noticed the high number of pregnant women in the refugee camps, due to the mass rape of Rohingya women as a tool of genocide and ethnic cleansing. In the next several weeks, thousands of babies will be born. What will happen to these babies? Fifty two percent of the women who fled were raped, according to the United Nations, brutally raped. Traumatized, they have made their way through jungles and landmines to the perceived safety of refugee camps.
There are currently 144,000 single mothers who survived the violence. This figure is set to increase. These women have the hardest time fending for themselves and their children and they know that the monsoons are coming.
"Motherhood: All love begins and ends there," writes Robert Browning. This Mother's Day, our love cannot be contained to our own children. We, mothers, have to share our beautiful essence with these persecuted mothers giving birth to children. Join the interfaith movement in support to end the genocide in Burma.
Levels of aid to these refugees are not at the levels promised.
According to media reports, Save the Children expects the number of babies abandoned by their mothers to increase in next weeks, even as the monsoon rains increase. Others may find love in their families, despite the hate that led to rape. What are we doing to make this situation better? This Mother's Day, I ask you to call on your elected officials and ask them to support the Burma Human Rights and Freedom Act of 2018, which contains millions of dollars in aid, but is being held up in Senate. We need Senator Mitch McConnell to bring this bill to vote.
The Myanmar government has simply denied systemic rape. This is another important reason why we need stronger pressure on Myanmar's government. Further delay of the bipartisan bill sends the wrong message to perpetrators of mass rape and other crimes of war.
My heart is heavy thinking of the hundreds of Rohingya women who had motherhood violently thrust upon them. Many are under the age of 18. As I take my 15-year-old daughter, Zahrah, who still loves to cradle against my bosom, to shop for a new outfit, I can't help but think of another 15-year-old, Fatima, sitting in a tent in one of the largest refugee camps in the world. Fatima will soon have a baby of her own. Alone. She will give birth alone in the same skirt that she was assaulted in. I cannot celebrate my motherhood while ignoring her.
Hena Zuberi is a mother of four, the Director of Outreach for the Faith Coalition to Stop Genocide in Burma and Justice for All, a role in which she advocates against the genocide of the Rohingya people.