OneRace Movement: A United Church Can Heal Racial Divisions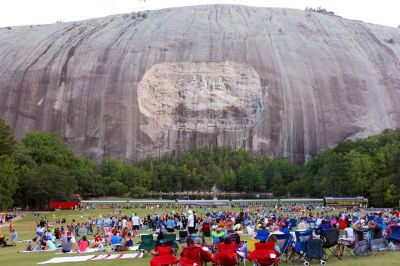 Stone Mountain rises 825 feet above the suburban Atlanta landscape, a towering symbol of the area's divisive racial history.
There are two Stone Mountains. One is the No. 1 tourist attraction in Georgia, drawing about 4 million guests a year, many of them oblivious to the controversy, for a variety of family activities.
The other, described as a "Confederate Mount Rushmore," has huge carvings of President Jefferson Davis and generals Robert E. Lee and Stonewall Jackson on its face. Stone Mountain also has a history of Ku Klux Klan activity, beginning in 1915 when a small group of white men climbed the mountain and lit a flaming cross to mark the rebirth of the Klan, after it was largely stamped out in the late 19th century.
Stone Mountain remains a symbol of controversy and division today. Republican gubernatorial candidate Brian Kemp recently tweeted, "As governor, I will protect Stone Mountain and historical monuments in Georgia from the radical left. We should learn from the past – not attempt to rewrite it."
His opponent, Democratic nominee Stacey Abrams, has called for the removal of the Confederate carving from the face of the mountain, calling it "a blight on our state."
So Stone Mountain is a perfect place to begin to bring down racism. On August 25, black and white Christians from the Atlanta area and around the Southeast will write a new chapter in the history of the mountain.
As part of an event called OneRace Stone Mountain, they will climb the mountain and erect a cross. This time, it will be a symbol of reconciliation and love instead of division and hate.
OneRace Stone Mountain will draw from the imagery Dr. Martin Luther King used in his famous "I Have a Dream" speech almost 55 years ago to the day.
On August 28, 1963, he spoke to a crowd estimated at 250,000 from the steps of the Lincoln Memorial during the March on Washington.
At one point in the speech, in a series of lines playing off the lyrics from "My Country, 'Tis of Thee," King declared, "Let freedom ring from Stone Mountain of Georgia," an apparent reference to the rebirth of the Klan.
This was even before the park was formally dedicated in 1970, in a ceremony attended by Vice President Spiro Agnew, or the Confederate sculpture was completed in 1972.
Even before then, in the 1960s, Stone Mountain was a symbol of racial discord. Sadly, King's dream of racial harmony has eluded us so far. Too often, the words "race" and "violence" seem to go hand in hand, with cities like Ferguson and Charlottesville evoking images of demonstrations and bloodshed.
The leaders of the OneRace movement know that only a united Church can help heal our racial divisions. They follow in the footsteps of leaders like King who marched for nonviolent social change in this country. OneRace Stone Mountain actually will help fulfill part of King's dream.
"I have a dream that one day on the red hills of Georgia the sons of former slaves and the sons of former slave owners will be able to sit down together at the table of brotherhood," King said during his "I Have a Dream" speech.
That day is coming Aug. 25.
Bishop Garland Hunt, senior pastor of The Father's House in Atlanta, and Billy Humphrey, director of the International House of Prayer in Atlanta, are co-executive directors of the
OneRace Movement
, which will host a historic racial reconciliation event at Stone Mountain, Georgia, on Aug. 25.