'They're forced to celebrate it': Parents of girls losing to boys speak out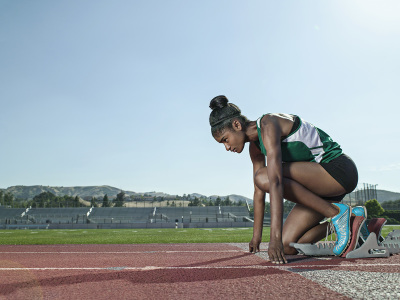 "How do you not understand that's unfair?" It's a question parents across the country are asking, as more and more of their daughters watch everything they train for vanish. For moms and dads at California's CIF-North Coast Section Meet, the outrage reverberated across the stands. They watched as Adeline Johnson, an 18-year-old senior, was eliminated from the state track and field championships — all because a biological boy decided to compete as a girl. "There's no way this should be allowed," one parent fumed. And yet, if Joe Biden has his way, it will be the future of sports for every girl in America.
Until recently, the boy named Athena Ryan competed in men's cross country, finishing a distant 63rd in the 2021 men's 5,000 meters. But this past weekend, running as a girl, he placed second in the 1,600 — knocking real women down or off the podium. After the race, Ryan told reporters he wasn't "expecting" to run as well as he did. "I dropped like 17 seconds on my season's best in the past two weeks," he bragged. "I was just coming here trying to break 5 — just glad I finished it out."
People in the stands watched as Ryan blew past runners in the backfield toward the end of the race. "You either think that he is holding back," a parent said, "or it's his lactic threshold — which means he can access energy in the final part of the race. Girls can't do that," the spectator continued. "There is a physical way in which they race. Having a boy in there just throws off the mechanics of the race."
To the families who've helped their daughters train and shuttled them back and forth to meets, the whole sport is becoming a sham. "I 100% empathize with the need to belong and the desire to compete," another anonymous parent said. "[But] you have to understand how hard these girls work to do this."
Johnson, who will watch Ryan take her place at the state finals later this spring, went viral for giving a subtle thumbs-down during the medal ceremony for her race. To some parents, that was a bold gesture since the girls have been advised to ignore the unfairness of it all and smile along.
"It's heartbreaking to see what happens to these kids and how scared they are to even show the slightest bit of body language that might indicate they aren't happy with it," a family member told The Daily Caller. "They're, like, forced to celebrate it."
Worse, that protocol seems to extend to parents, who explain, "We have all been advised that we are not protected. As a family, anything we say falls under the student code of conduct [which demands conformity to the trans agenda]. If we don't follow the guidelines, then it is considered bullying." And since "they can't protect our girls from being disqualified," it makes sense "why no one wants to speak out."
"Everybody is too terrified to challenge it. There is the fear of what will happen, what will be taken away, and if you won't be allowed to race — or if you'll be canceled."
Even spectators were silenced, after security decided to remove a group of protestors holding a long banner that read, "Protect Female Sports." The video, which got plenty of attention on social media, shows the group being confronted by another woman, who calls their sign "disgusting" and "offensive." For others, however, the escort out of the stadium was a moment of clarity. "Many parents were completely unaware there was a boy competing in girls' races," the Independent Council on Women's Sports (ICONS) explained.
And not just one boy, as former University of Kentucky swimmer and Title IX advocate Riley Gaines pointed out. A "2nd trans-identifying male, Lorelei Barrett is headed to the @CIFState CA track championships next weekend," she tweeted. "Along with male Athena Ryan, he's also qualified in the 'Girls 1600m' race. Barrett had qualified for the girls state cross country championships last fall …"
Meanwhile, the Biden administration is continuing its obsession on erasing women with a new rule that would wipe away state protections for girls' sports. Now that public comments have been collected, it's only a matter of time before Title IX is effectively wiped away.
This, critics say, despite a resurfaced study from the federal government's own National Institutes of Health which found that biological boys are "faster, stronger, fitter" after taking female hormones.
"A major review quietly re-shared by the National Institutes of Health (NIH) last August suggests that early exposure to testosterone means trans women possess at least eight physical and mental attributes that could give them an advantage in sports — even if they make the change relatively early.
"Findings showed trans women had greater muscle mass and bone density, which aid strength, power and durability, plus bigger lungs and higher oxygen levels, which help with endurance, as well as increased connections in the brain responsible for spatial awareness, which could help with agility."
In other words, Family Research Council's Meg Kilgannon says, "The Biden administration is further confusing and pressuring schools to adopt these policies, while acknowledging that boys and girls are different and boys have an advantage over girls in competitive sports."
Parents need to understand, she told The Washington Stand, this isn't just happening at public schools. "This story is an example of what can happen in private schools when decision-making authority is outsourced to sports' governing bodies or academic associations. Some of the most woke schools in the country are exclusive prep schools [like Sonoma Academy where these athletes were from]."
There's a lesson here for religious schools, Kilgannon urged: "Make sure your governing documents are sufficient to withstand an attack from within. Mary Hasson's work at Person and Identity Project is a great example of the kinds of safeguards, programs, and professional development religious schools need to protect your children and your institution against this ideology."
---
Originally published at The Washington Stand. 
Suzanne Bowdey serves as editorial director and senior writer for The Washington Stand. In her role, she drafts commentary on topics such as life, consumer activism, media and entertainment, sexuality, education, religious freedom, and other issues that affect the institutions of marriage and family. Over the past 20 years at FRC, her op-eds have been featured in publications ranging from the Washington Times to The Christian Post. Suzanne is a graduate of Taylor University in Upland, Ind., with majors in both English Writing and Political Science.