Snoop Dogg Joins the Lineup for the Super Bowl Gospel Celebration - Will Showcase Gospel Album
Snoop Dogg on the campus of Bethel University?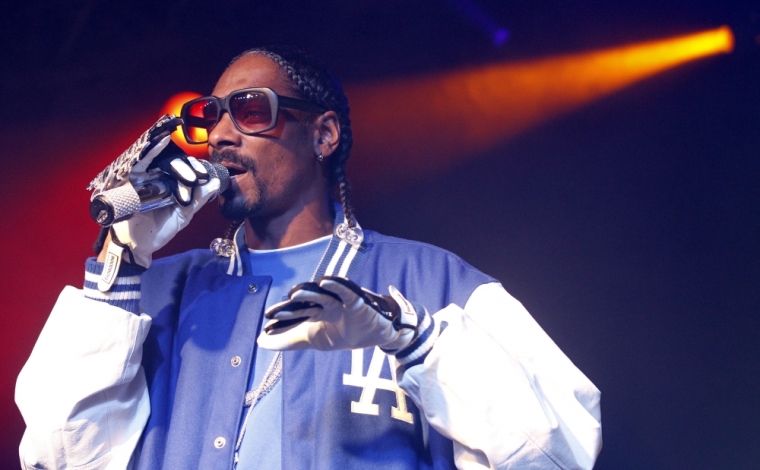 What was once thought implausible is now a reality: Snoop Dogg on the campus of Bethel University. Thursday night in Minneapolis, rapper Snoop Dogg debuted songs from his forthcoming "Bible of Love" album at the Super Bowl Gospel Celebration. Performing alongside the rapper were gospel music icons Bishop Rance Allen and The Clark Sisters. On the album, Bishop Allen joins the rapper for a duet entitled: "Blessing Me Again", for their part on the album, The Clark Sisters are on sampled in a version of their 2007 hit "Blessed and Highly Favored". R&B singer Faith Evans and Tye Tribbett who also performed also appears on the album, slated for a mid-March release. The night featured gospel music royalty, but the addition of Snoop Dogg to the lineup undoubtedly made the night much more interesting and entertaining albeit controversial. The rapper's announcement about a forthcoming gospel album was met with a mixed bag of replies. Some were incredulous and others were and remain supportive. Snoop's mother is an Evangelist and continues praying for her son whose spiritual polarity graces both spectrums.
Dutifully aware of the somewhat dubious inclusion, event founder Melanie Few said of the night in an earlier interview with KSTP in Minneapolis "I really feel this will be the best one we've ever had!" Leading up to and following the live taping, it has certainly been the most talked about!
Sheila E, Gospel superstar, Erica Campbell, Sounds of Blackness, and Donnie McClurkin also performed. Perennial performers the NFL Player Choir comprised of current and former players also took the stage. The night is much more than music and takes time to honor athletes making a difference with not only their hands and feet, but their faith. This year, Russell Wilson of the Seattle Seahawks was honored with the "Faith In Action" award and wide receiver Larry Fitzgerald was honored with the Lifetime of Inspiration Award. Pastor John Gray and Yvonne Orji (Insecure, HBO) hosted the star-studded evening.
Since its Super Bowl XXXIII debut in Miami, The Super Bowl Gospel Celebration has been a highlight of Super Week, combining faith, family, fun and entertainment in one exciting evening. To date, it is the only NFL sanctioned inspirational concert and is growing exponentially with each new year and super city. The event isn't limited to only gospel performers and is a growing platform for non-gospel artists and entertainers to share their faith and inspirational living. The event is always well attended by athletes and gives football and music fans a chance to see fan-favorites talk about more than sports. Each year, city and state leaders, faith leaders and other luminaries are drawn to the concert.
The addition of Snoop Dogg and Faith Evans are on par with the regular, annual inclusion of non-gospel artists in the event. In fact, the Super Bowl Gospel Celebration is one of the few places to witness the other side of many secular artists. Last year Lalah Hathaway, Anthony Hamilton & The Hamiltones, Damion Escobar and BJ the Chicago Kid rounded out the secular artist additions to the show. One exceptional hallmark of the celebration, now in its 19th year is its endeavor to remain at the forefront of faith and entertainment. The event rewards its base with top-tier talent and a second to none super week experience. In 2017, a total of three subsequent 2017 GRAMMY winners were part of the show: Bernie Herms (accompanying his wife Natalie Grant), Tamela Mann and Lalah Hathaway. The 2017 celebration landed on the release day of CeCe Winans' album "Let Them Fall In Love", a return from a 10-year recording hiatus, now winner of two GRAMMY awards this year. There's always something special about the Super Bowl Gospel Celebration and whether you're a believer when it comes to Snoop Dogg and his "Bible of Love" or not, this year's celebration and its legendary lineup was one for the books.
The televised event which always boasts incredible viewership and is sure to eclipse previous numbers will air Saturday, February 3rd at 11:00 PM EST and Sunday, February 4th at 11:00 AM & 11:00 PM EST. On BET HER - Sunday, February 4th at 8:00 AM EST.
Fred Willis engages his online audience with the SoulProsper Media Group, Threaded (a digital magazine) and as editor-in-chief of Signature Radio and News (online). He is currently a contributor on the Huffington Post blog and continues to expand the reach of his media voice with his newest podcast: "On the Record".