Stop Calling Assad a 'Protector' of Syrian Christians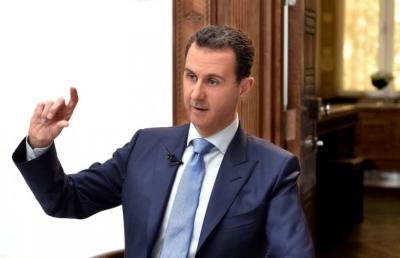 The recent airstrikes by the U.S., Great Britain and France against Syrian chemical weapons sites have led to growing concerns over the safety of Christians in Syria. A prevalent misconception is that Syrian dictator Bashar al-Assad is a civilized "protector" of Syria's Christians. In reality, Assad's treatment of Christians in Syria is nothing short of tyrannical.
Legally banned from becoming head of state, Syrian Christians are viewed as mere pawns in the Assad regime's maintenance of power and have never been granted true freedom of religion. The regime is responsible for the destruction of over 60 percent of all the churches in Syria that were destroyed during the civil war, according to the Syrian Network for Human Rights.
"Assad does not protect Christians. He is only using them for propaganda purposes," says Shabnam Assadollahi, an award-winning human rights advocate of Iranian descent who was imprisoned in Iran's notorious Evin prison at the age of 16. Ms. Assadollahi advocates for the emancipation of women and minority religious communities throughout the world.
"The genius who opened Syria to the Internet was a Christian Arab named Bassel Khartabil," says Ms. Assadollahi. "For this tremendous work, he was rewarded by being arrested and tortured by the Assad regime. My sources say that he was held in detention for three years. We only recently learned of his execution, several years after it had taken place."
Khartabil was not Assad's only victim. Hundreds of Syrian Christians seeking freedom have been jailed, tortured and shot to death by Assad's thugs. This includes the Syrian engineer and filmmaker Bassel Shehadeh, who had abandoned a Fulbright scholarship in the U.S. to document Assad's military crackdown on the city of Homs. After Assad's forces killed Shehadeh during a protest, his family was barred from holding a funeral mass and accepting condolences.
"The situation in Syria is very similar to Iran, where all religious minorities are threatened and forbidden to disagree with the regime," says Ms. Assadollahi. "Even those who are living abroad cannot publicly fight against the regime, as their family members and relatives inside the country might get arrested."
Since the outbreak of the Syrian civil war in 2011, it is estimated that between 300,000 and 900,000 Christians have left the country. Assad bears significant blame for helping the Islamic State terror group gain a strong foothold in Syria. He released the majority of the terror group's leadership from his jails, having made a calculated decision early in the war to help ISIS gain momentum by going easy on it.
The U.S Treasury Department reports that Assad bought millions of dollars worth of oil from ISIS. At one point, oil sales to Assad accounted for 72 percent of ISIS' income from oil revenues, according to documents uncovered in the Delta Force raid on ISIS oil minister Abu Sayyaf's compound. The only "minority" in Syria that Assad truly cares for is his family, his cronies and himself. Assad is a bloodthirsty dictator and will continue to promote a civil war that is now seven years old and has led to the deaths of over 350,000 people in Syria.
In order to truly protect Syria's endangered Christian population, we must first do away with the fallacy that Assad cares about their safety. Secular democracy must be promoted in Syria and the protection of human rights for all Syrians guaranteed.
Bradley Martin is a Senior Fellow with the news and public policy group Haym Salomon Center and Deputy Editor for the Canadian Institute for Jewish Research