The biblical answer for evil and suffering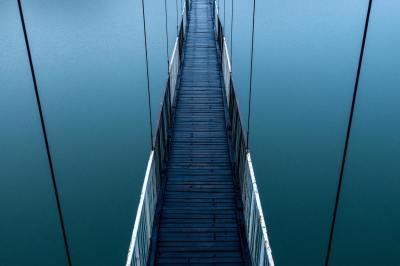 On a recent Christian Q&A podcast, a question came from a woman who said she had been praying for God to give her His heart, and ever since she has gone through a very difficult time of pain and suffering. It was clear she was confused and hurt. The raw emotion in her voice left me heartbroken, while the question itself is something I've heard countless times before in different forms.
Unfortunately, the answers given to her weren't helpful. They centered on why evil exists, with a focus on the free will argument, which posits that evil occurs because God gave us free will to choose both good and bad. Whether that's true or not, it misses the mark of answering the woman's real question of why she was in the midst of a hard trial.
It's a good bet that if you've been a Christian for some time, you've had similar heartache that's caused you to cry out to God for answers. I believe the Bible gives us understanding in this area, even if the explanations are sometimes difficult to accept.

The Gift That Nobody Wants
When I was going through very difficult times, I searched for answers, came up empty, and was left both exasperated and depressed. That is, until I came upon an essay in a book ("That Incredible Christian") written by A.W. Tozer entitled "The Ministry of the Night", which begins with this sobering statement:
If God has singled you out to be a special object of His grace you may expect Him to honor you with stricter discipline and greater suffering than less favored ones are called upon to endure.
Go ahead and read it again. Doesn't get any easier the second time around does it? What Tozer says is similar to what Phil Yancey wrote years later about pain being "the gift that nobody wants".
Tough as it was to read, it was the first piece of contrarian truth I'd be given that gave me hope that answers – even if they were hard ones – were available. Was Tozer right and did the Bible back up his claim?  
Long story short, the answer is yes.
Do your research and you'll find there is not one person highlighted in Scripture and used mightily by God (e.g. Joseph, Moses, Elijah, Daniel, David, etc.) that didn't go through painful trials. This fact runs completely contrary to the statements made by prosperity preachers who see hardships as something foreign to people blessed by God.
Viewing Pain and Suffering through a Biblical Lens
While a lot of people do their best to get God off the hook for pain and sufferings, the Bible doesn't seem to follow suit. Scripture affirms God's sovereignty over everything including both of them: "I am God, and there is no other; I am God, and there is none like me, declaring the end from the beginning and from ancient times things not yet done, saying, 'My counsel shall stand, and I will accomplish all my purpose'" (Is. 46:9–10).
The inescapable conclusion is, if an all-sovereign, all-good and powerful God exists, and evil/suffering exists, then God wills (at least currently) that evil and suffering exist. God ordained and has a purpose for evil.
Does this thought make you bristle? If so, consider: 
"The Lord has made everything for its own purpose, even the wicked for the day of evil (Prov. 16:4).
"There is none besides me; I am the Lord, and there is no other. I form light and create darkness, I make well-being and create calamity, I am the Lord, who does all these things" (Is. 45:6-7).
"Is a trumpet blown in a city, and the people are not afraid? Does disaster come to a city, unless the Lord has done it?" (Amos 3:6).
"For the sorrow that is according to the will of God produces a repentance without regret, leading to salvation, but the sorrow of the world produces death" (2 Cor. 7:10).
"Therefore, those also who suffer according to the will of God shall entrust their souls to a faithful Creator in doing what is right" (1 Pet. 4:19). 
Who was it that raised up the Pharaoh that brutalized, enslaved, and made life miserable for God's chosen people: "For this very purpose I have raised you up, that I might show my power in you, and that my name might be proclaimed in all the earth" (Rom. 9:17).
Who took responsibility of all that befell Job? "The Lord said to Satan, "Have you considered My servant Job? For there is no one like him on the earth, a blameless and upright man fearing God and turning away from evil. And he still holds fast his integrity, although you incited Me against him to ruin him without cause" (Job 2:3). "Then all his brothers and all his sisters and all who had known him before came to him, and they ate bread with him in his house; and they consoled him and comforted him for all the adversities that the Lord had brought on him" (Job 42:11).
In light of these biblical facts, what are we to do with the free will defense of evil? While it's an interesting philosophical argument, you'll find it explicitly referenced nowhere in Scripture. And I mean nowhere.
But that aside, let's press on a little further with respect to what the Bible says about God's plan for pain.
Suffering and Jesus
The woman in the Q&A session said things seemed to go downhill for her when she prayed for the heart of God/Jesus. Here's why that's a very brave and bold prayer.
Years ago, we used to sing a song in church entitled "Make me like You Lord", which goes like this:
Lord make me like You
Please make me like You
You are a servant, make me one too
O Lord I am willing, do what You must do
To make me like You Lord
Just make me like You
Scripture says God will accomplish exactly that for His chosen people: "For those whom he foreknew he also predestined to be conformed to the image of his Son" (Rom. 8:29).
But have we thought much about what that "conformation" process involves? Glance back and forth between the short song above and this Old Testament description of Jesus' life:
"He was despised and forsaken of men, a man of sorrows and acquainted with grief; and like one from whom men hide their face, He was despised, and we did not esteem Him. Surely our griefs He Himself bore, and our sorrows He carried; yet we ourselves esteemed Him stricken, smitten of God, and afflicted. But He was pierced through for our transgressions, He was crushed for our iniquities, the chastening for our well-being fell upon Him, and by His scourging we are healed . . . But the Lord has caused the iniquity of us all to fall on Him. He was oppressed and He was afflicted . . . By oppression and judgment He was taken away . . . But the Lord was pleased to crush Him, putting Him to grief" (Is. 53:3-10).
Again, we find God the Father claiming responsibility for pain and suffering, this time His Son's.
For us, we're faced with an important question: knowing this, do you still want to be made like Jesus? If so, are you willing to go through suffering like He did?
Referencing Christ's painful life events, the writer of Hebrews tells us, "Although He was a Son, He learned obedience from the things which He suffered" (Heb. 5:8).
If that was His path, you can bet it's ours too.
Power Through Weakness
One disliked effect of pain / suffering and evil in general is that it makes a person feel weak, not-in-control, and powerless. The interesting thing is, the Bible says that power is found – and actually perfected – in weakness.
Paul says exactly that about his thorn in the flesh given to him by God: "Concerning this I implored the Lord three times that it might leave me. And He has said to me, "My grace is sufficient for you, for power is perfected in weakness." Most gladly, therefore, I will rather boast about my weaknesses, so that the power of Christ may dwell in me" (2 Cor. 12:8-9).
That's easy to read, but how does it practically play out in life?
One good example that I remember occurred many years ago at one of the "Women of Faith" conferences that were being held around the country. The venue of the summit ran into seating trouble with the end result being the assembling of a block of seats that were less than ideal for viewing the stage.   
The women there began to complain, so much so that they threatened to disrupt the entire event.
However, before that could happen, out on the stage came Joni Eareckson Tada (a quadriplegic) in her wheelchair. Joni moved to the microphone, and as the crowd quieted down she said:
"I understand there are some of you here tonight not happy with the seat you are in. Me too."
I don't know all the details about what else happened at that conference, but I do know one thing – from that point on, no one complained about their assigned seat. That's the power of weakness.
The ultimate example, though, is found in Jesus and the cross. There is no greater suffering that being nailed to a cross, and no greater weakness or powerlessness felt than that of being crucified. And yet, at the cross, through that intense pain and weakness, Jesus was right in the middle of God's will and accomplishing the greatest event in human history.
I wish I could tell that woman I heard on the Q&A podcast to not despair or feel like God has abandoned her. The truth is, God is likely preparing her for something great.
On that point, another quote from Tozer is particularly appropriate: "It is doubtful that God can bless a person greatly until He has hurt them deeply." A hard truth for sure, but one that the Bible confirms along with the great hope it brings:
"Consider it all joy, my brethren, when you encounter various trials, knowing that the testing of your faith produces endurance. And let endurance have its perfect result, so that you may be perfect and complete, lacking in nothing. Blessed is a man who perseveres under trial; for once he has been approved, he will receive the crown of life which the Lord has promised to those who love Him" (James 1:2–4; 12).
"We also exult in our tribulations, knowing that tribulation brings about perseverance; and perseverance, proven character; and proven character, hope; and hope does not disappoint, because the love of God has been poured out within our hearts through the Holy Spirit who was given to us" (Romans 5:3–5).
"In this you greatly rejoice, even though now for a little while, if necessary, you have been distressed by various trials, so that the proof of your faith, being more precious than gold which is perishable, even though tested by fire, may be found to result in praise and glory and honor at the revelation of Jesus Christ" (1 Peter 1:6–7). 
Robin Schumacher is a software executive and Christian apologist who has written many apologetic articles, appeared on nationally syndicated radio programs, and presented at various apologetic events. He holds a Master's in Christian apologetics and a Ph.D. in New Testament.