We need more men in the pro-life movement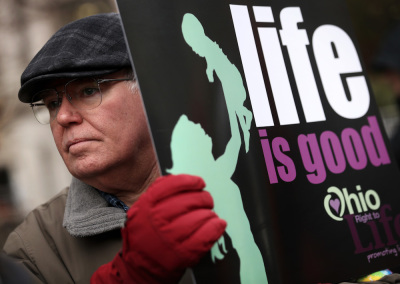 After seven years of pro-life advocacy, it is apparent to me that we need more men in the pro-life movement.
Let me begin by stating that it is absolutely necessary for the pro-life movement to include and listen to the voices of women. Many capable and highly-skilled women are leading the charge in the pro-life movement from Carol Tobias at National Right to Life to Marjorie Dannenfelser at Susan B. Anthony List.
Women are the target of the abortion industry, and our society will not be one that values life unless women of all ages and beliefs unite in advocating for the protection of the preborn, the most vulnerable among us.
Thankfully, this is a growing trend.
However, I have noticed a marked absence of men in the pro-life movement. Anecdotally, I have rarely attended pro-life gatherings where men outnumbered women. Across a variety of organizations spanning the breadth of the pro-life movement, men generally seem to lack the passion to act on behalf of our pre-born brothers and sisters.
Or, perhaps they have been cowed into silence by the media and culture' insistence droning insistence that abortion is a "woman's issue." They are right to recognize that presently, under American law, women are the ones with sole authority to decide whether to get abortion.
But abortion is not an issue that men can afford to be silent on. To understand this, we must recognize what the pro-life claim is and what it is not. The pro-life claim is not a statement of preference, but an objective truth claim: elective abortion is the unjustified taking of an innocent human life.
If this is true, the sex of the individual making the argument does not affect the truth of the claim. Additionally, it is of note that seven men on the Supreme Court ushered in the rise of legal abortion in the United States, and men such as Bernard Nathanson were accepted as influential leaders in the abortion movement at its inception.
Even abortion-choice advocates recognize that some men are allowed to speak on abortion, as long as those men have the approved opinion. Thus, the abortion lobby's claim that men must be silent regarding abortion is not a principled position about who can speak, but a hammer used to silence opposition.
Not only did men bring about the start of legal abortion in America, but the abortion industry only thrives today because of the actions of men. I've stood in front of an abortion center and seen this with my own eyes. A young man walked a young woman in for an abortion, and as he was leaving my friend counseled him that if she went through with the abortion she would face lots of pain and regret. His response was revealing but chilling: "That's her problem. Not mine." This kind of attitude in men is the reason that abortion continues at the rate that it does.
Although there are few studies on the reasons that women get abortions, it is widely recognized that socioeconomic factors drive the vast majority of abortions. One can only imagine how things would be different if every man advocated for the life of his preborn child, if every woman in a crisis pregnancy had a husband who promised to stick by her side and raise the child with her. These socioeconomic factors would be much less intimidating if men promised to stick around and support their child.
But instead, men's apathy and passivity enable the abortion industry to remain prosperous. Many men opt for silence, or even worse, lend their support to abortion, encouraging and funding the killing of their own children.
Men have an integral role to play in the ending of abortion. Abortion is a scourge on our country and it will not end until men step up. We will not see an end to abortion until men take a stand and display a willingness to sacrifice for the sake of preborn children. That is why we need more men in the pro-life movement: children are dying and we can stop it, but not until men do something about it.
Bryce Asberg is a sophomore at Hillsdale College where he studies Religion and is a George Washington Fellow. His hobbies include reading, pro-life activism, and re-posting the Babylon Bee.