Why a Quiet Time of 'Daily Devotions' Can be a Bit of a Misnomer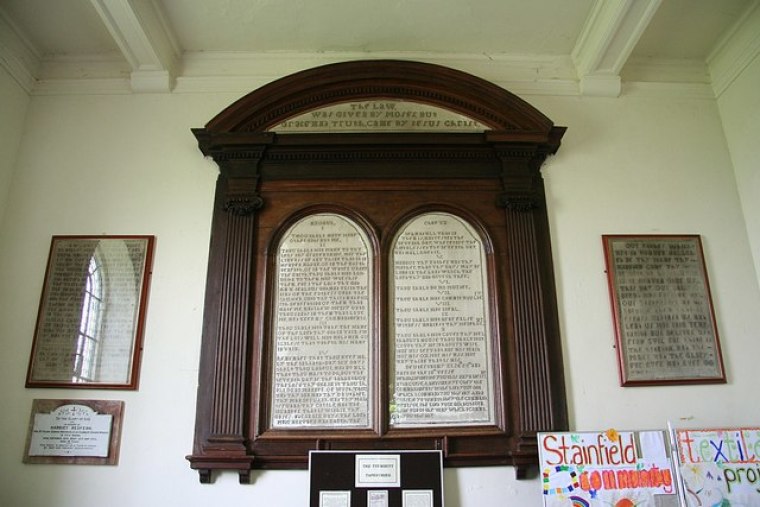 A quiet time of "daily devotions" can be a bit of a misnomer. All of our waking moments are to be lived in devotion to the glory of God, whether eating or drinking, working or relaxing. Our moment by moment breaths can overflow with prayer and thanksgiving, cries for help and praise for mercies. And we can stay abiding in the Vine through meditating all day long on His words as we think on Scripture we know by heart, or hear songs about Him on Spotify or Pandora, or reflect on last Sunday's sermon, or listen to an audio Bible.
And so, why have a specified "quiet time?" Is our "quiet time" part of a necessary half-hour to complete our Sunday school lessons or ladies' Bible study homework? Is it a necessary discipline if we're going to be Christian women who know our Bibles? Well, yes...It takes time to prepare for a Bible study and to learn about God, but I can spend my quiet time doing these things and still miss out on the sweetest joy: the delight of feasting on the Bread of Life, Christ Jesus Himself.
Feasting on Jesus is what has become so precious each day when I spend time alone with God in "quiet time." While it is such a gift when I can have that time first thing in the day, in the early morning before the kids find me and notifications ding and my day's work summons me, through His Word I can feast on Him any time of day, in any kind of chaos.
Quiet times have become times of conversation with the Lord, where I think on Him, read His Word which tells me about Him, sing hymns of praise to Him for How great He is, and then roll burden after burden, care after care, worry after worry onto His strong shoulders. I see Him in His Word, how strong and beautiful and capable He is, and I tell Him all about my troubles. I lay, cast, hurl all-the-things upon Him — whatever it takes to humble myself under His mighty hand and roll my anxieties onto Him. And with a lightened heart, I ask Him for today's marching orders.
"Lord, what are your marching orders for me today?" I want to understand, like Paul, that I am a bond-slave of the Lord Jesus Christ. Understanding that I am a son-slave of God spills over into my upcoming day's schedule and plans. I pray and ask God for today's marching orders, and then I read His Word some more to hear His answers.
I feel like I should caveat and explain, and if you've read my blog for any time now, I hope you know that I understand that we are required to be faithful to accurately handle God's Word, not willy-nilly throwing half a verse here or part of a story there to somehow magically happen upon God's will for our lives for this day. So, I do not commend setting aside the accurate, careful handling of God's Word, but I am seeking to obey it, believe it, and thank God for the portion He has led me to for this day, knowing that every word in His Scripture is profitable for my life as it shows me more clearly the God to Whom I entrust my own soul, as well as the hopes and dreams and eternity of my family.
Perhaps He answers me through some story I read of His might and power. Perhaps He answers me through commands in His Word to imitate Christ. Perhaps I see Christ's perfect record of obedience on my behalf as I read of God's holy standard in The Law. Perhaps I recall His faithfulness, sovereignty, and trustworthiness as I read prophecy. Perhaps He answers me through expressions and emotions I can identify with in the Psalms.
And I take that day's portion of Life, feast upon it, thank Him for it, treasure it, and know that God has spoken to me! He has spoken to me!
Those moments with my Lord Jesus are sometimes spent in vigorous Bible study, my kitchen counter covered with scribbled notes and an array of study Bibles, concordances and pens, maps and study guides. But most mornings they are spent pouring over a section of Scripture that I am not preparing to teach to a group, not preparing to write a blog post about. I won't Instagram most of these intimate moments with my Lord Jesus, and unless I write down some notes, by next week I may not remember exactly what I talked with Him about. But I am drawing near to Him, lingering over the words He breathed out in Scripture, and finding my love and affections for Him renewed and awakened yet again, day by day.
My time with the Lord is similar to how, each evening, after we've put the kids to bed, my husband and I tend to migrate toward the couch, maybe to watch a show together, maybe to read some news or talk about raising the kids, or maybe to just sit close and watch the fire flicker for a few minutes until we realize we're much too tired tonight to stay awake together any longer. I really only remember a handful of our exact conversations and communication. I know that some evenings we "connect" and meaningfully mingle emotions and thoughts more intimately than other evenings. But although those evenings aren't always textbook date-nights, those evenings together keep us close. We know one another. And I love it.
So how much more valuable and meaningful and special is one-on-one time with the Lord Jesus each day? We are hearing His voice in His Word, asking Him what He means by what He says, looking back at His Word to hear His replies, and asking Him for faith to believe the words we read in Scripture.
And as we submit our hearts to the Keeper of our souls, the Lord of our days, we seek Him for marching orders. Marching orders usually look like believing what He's said, and believing in our hearts in such a way that our faith in His words spills over into a changed life, a life of rest and obedience and joy. What comfort to know that there is never more to do in a day than God has provided time for, and this attitude takes such a load off my heart and to-do list. When I have too much to do or too many plates to spin, then something on my list — one (or more) of my plates —is not on His agenda. And if the plate is not on His agenda, why would I want it on mine?
I will list below some resources I recommend and books and websites that have helped me in spending time in "quiet time," but the HOW TO comes fairly easily once we embrace the WHY. Why have a quiet time? Because you need to sing to Jesus. You need to be changed, transformed into His image. You need to delight yourself in the One on whose shoulders you can roll all your burdens. You need to be reminded Who is the Lord of your life and Ruler of this universe. You need to get your soul happy in Jesus and Feast on the Bread of Life. Won't you come aside and rest awhile with Jesus?
Amanda is married to husband Jody and mom to 2 little ones. Her hope is to encourage other women to see the beauty of Christ in His word so that we will learn to rest in the gospel in our daily lives. Find her online at http://www.blessyourheartandhome.com/