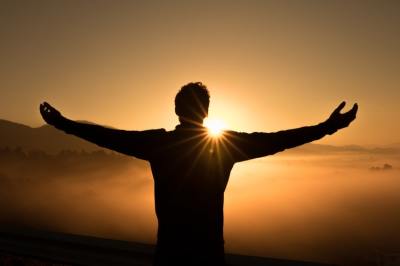 It is of utmost importance that we see our value, not in some prideful attitude of self achievement or inherited superior race or family tree, but as helpless human sinners, yet as sinners with value, a value based not on what we are or can do, but on what He can do with and through us.
We are valuable because we are part of His creation. He created us in His likeness and image and said, "It is very good!" Yes, mankind fell to sin, but God is able to separate the sin from the sinner and love us but hate our sin. So we are valuable because He says so in that He doesn't make junk! Genesis 1:31
We are valuable in that after man fell He immediately had a plan to redeem us from our sin. Genesis 3:15 was the first prophecy telling that he was going to send a Messiah from the seed of woman to bruise the head of Satan! He went to an awful lot of trouble to redeem us therefore we must be valuable!
We are valuable in that throughout the Old Testament and throughout history God's plan for us has been eternal life. This is an extended life; forever and ever. Firstly, good for us as opposed to a shortened life, and promises of a longer life on the earth if we follow Him. This proves also we have value to Him. If we had no value He would not be concerned about lengthing our life, but shortening it. Jesus stated, "The thief comes not but to steal, to kill, and to destroy, but I have come that they might have life and life more abundantly!"
Therefore we are valuable to God in that not only is He interested in lengthening our life but lengthening our life with Him! It proves love and value when anyone wants to co-habit with someone else. He doesn't just say "I want you to live abundantly, and eternally;" He says "I want you to live abundantly and eternally with me!"
We are valuable because of who it is that is saying we are valuable. If a king or a president were to give you their endorsement, as an extremely valuable member of their society, that would carry a lot of weight. We would think "Wow, I'm something special"! Well the creator of the universe, The King of all creation is saying "you are valuable to me, and a valuable member of my kingdom, and a valuable member of my family!" Our value is based on the endorsement of the highest possible entity in the universe!
We are valuable to God because not only is He saying we are valuable by extending our life and wanting us to live forever with Him, He adopts us as sons and daughters! 1st John 3:1 says "Behold what manner of love is this that we might be called the Sons of God"! If we were the son of an earthly king we would be called a prince and an heir to the throne and all of its riches! We would be entitled to all the protection, and the provision of that kingdom. In God we are according to Revelation 1:6 Kings and priests to the kingdom of God by Jesus' Christ! But as the Sons and Daughters of the Creator of the Universe we are not only valuable we are very valuable!
Not only are we valuable to God as a large group of children, as one of many He cares about, we are individually important! Christ taught that not one sparrow falls from the sky but God sees it, that He cares for even the lilies of the field. Christ said that the Father knows us so well that the very hairs of our head are numbered! Not how many hairs, its that each one has its own number! The Bible says God sees us when we are in our mother's womb, and that as our good shepherd Jesus calls us by name! We are valuable enough to Him that He gets individually involved in our lives!
Also, not only does He call us his sons and daughters adopting us into his family, Rom. 8:15, He assumes all parental responsibility. He has set forth a plan of available promises to all who believe. He considers us important enough to individually show concern by answering our prayers and allowing us to obtain things that people who are not his children could not obtain.
We are valuable enough that He took a process of over four thousand years to put together His word of sixty-six books by forty authors detailing His steadfast and unchanging love for mankind. Over one hundred generations of people's lives demonstrated that love. And He made sure it was written down for us to read for ourselves!
We are so very valuable to Him that He gave us His most precious possession to save us from temporal and eternal destruction. His most precious possession was His only begotten Son Jesus Christ. He gave Him as "The Lamb of God" To suffer in His body, and die on a cross for our sins. He sacrificed His own son for us.
And not only did He give us His Son He gave us his Holy Spirit by His grace. John 1:12 states " to as many as loved him to them he gave the power to become the sons of God!" The Holy Spirit came in an answer to a promise Jesus gave to empower us to live above the temptations and sin of the world, which He knows will destroy us!
And with this power the power over our enemy the Devil. Luke 10:19 states "Behold I give you power over all the power of the enemy and nothing shall by any means hurt you". As our heavenly Father He guarantees our protection. Someone once said A Christian is virtually indestructible until God is finished with him!
Rev Nolan J Harkness is the President and CEO of Nolan Harkness Evangelistic Ministries Inc. since 1985. He spent most of his adult life working in youth ministry. He also felt the calling of Evangelist/Revivalist and traveled as the door was open holding evangelistic meetings in churches throughout the Northeast. His website is www.verticalsound.org.