Ask Chuck: How to have a frugal but beautiful wedding
Dear Chuck,
A young man recently asked to marry my eldest daughter. I have three girls, so I know that the way we do this first wedding will likely set a precedent for the following ones. I am not a wealthy man, but I want my family to celebrate this occasion in a beautiful way. Do you have advice on how to save money on a beautiful wedding?
Frugal Father of the Bride
Dear Frugal Father of the Bride,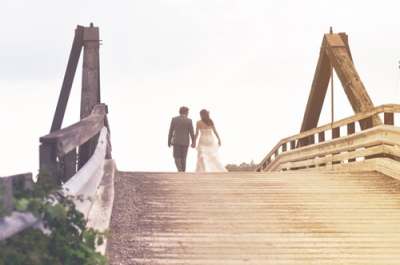 Well, I have four sons. I've never bought a wedding dress or paid for a wedding, but I've been to some pretty extravagant ones, and I have officiated a few that were way out of my comfort zone when it comes to expense. So, you are my kind of guy. You want to honor your daughter and future son-in-law but within proper financial constraints!
Even though a wedding is a special day — an event that should be a once-in-a-lifetime experience — there is no reason to go into debt for a beautiful covenant-making ceremony before God and man. That is the baseline, but let's get more specific.
Weddings are expensive
Most couples today anticipate sending invitations to between 130–150 guests.  They willingly spend thousands for the perfect venue.  A wedding planner is hired, along with a caterer, photographer, and videographer. Then there's the cost of flowers, a cake, music, hair, make-up, dress, shoes ... and the list goes on and on! Add in the cost of transportation to a destination wedding, and it is easy to see how people accumulate major debt for a wedding. The average wedding expense for couples marrying in 2022 was $30,000.
The $100 wedding
That is why I like the story of Ellie and Carson Simon. I don't know them, but my wife found their story online. They were married during COVID, so only 16 guests were invited. The venue was outdoors in Glen Canyon — a drive accessible for both families. 
Ellie found a dress for $20, borrowed a veil from a friend, and went barefoot. Her three sisters had fun doing her hair and makeup in the car. She picked her bouquet from the side of the road. A pre-wedding picnic was prepared by a friend of the family for everyone. Then Ellie's grandfather performed the ceremony while guests took photos with disposable cameras. The entire wedding cost a mere $100. 
Many people cannot imagine asking friends and family to help with such an event. And, yet, this is what can make a wedding all the more special. Most people I know would find great joy and purpose in helping if simply asked.  
The frugal part
An article at NerdWallet.com references average cost figures based on The Knot's annual Real Weddings Study. They offer a significant number of ways to save money. It is worth the read to see where costs can be reduced.
Unfortunately, debt often begins before the wedding occurs. Couples may bring consumer debt, student loans, and other financial issues into their marriage. Transparency must be established, and honest communication practiced. Contrary to the way proposals took place back in my era, more and more couples rely on professionals and costly engagement rings. This can cause financial stress before the wedding even takes place.
Make a budget and stick to it. Refuse to be influenced by what the world says a great wedding should be. Rather, look to the Word, and encourage your children to focus their time, energy, and finances into becoming a godly couple. This special day can be celebrated without the glitz and glamor promoted by the wedding industry.
Dad, you (and your spouse) should ask the Lord for guidance. Seek the advice of older people in your church or family. Will your daughter be paying for anything? How about the groom or his family? How much can they realistically afford? Stress that the focus should be on the marriage covenant made before God, not on a ring, a dress, a venue, or anything else. There is great value in keeping things simple. The bride and groom will experience less stress, enabling them to thoroughly enjoy their wedding day and the days leading up to it.
The beautiful part
A simple ceremony that I remember well is a small one where the wedding party sang the favorite Christian songs of the bride and groom as they entered and departed the chapel. Weddings are a reflection of our relationship with the Lord. The Bible begins and ends with a wedding. The most beautiful part of a wedding is the bride and groom's commitment to the Lord and each other. When people experience a beautiful, God-glorifying ceremony, they are touched and inspired, regardless of the budget. 
Let your daughters know what you can afford without debt. Ask them to be creative in using those funds, and whatever your budget, aim to glorify God. Be sure to thank Him for providing what you are able to afford.
Want more tools and tips regarding financial freedom and purpose? Subscribe to our emails at Crown.org (on the homepage) and receive helpful articles, resources, and more sent to your inbox.