Domestic Violence: Reclaiming Your Security After Escape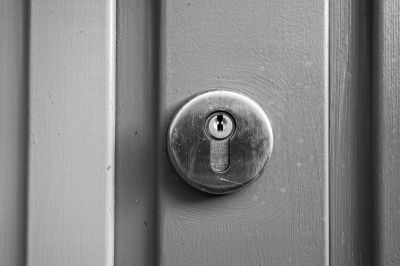 The physical and emotional scars left behind after living in an abusive relationship are hard to heal. Perhaps the most difficult thing to reclaim is your sense of safety. It's difficult, but not impossible. In addition to seeking the services of a qualified counselor and taking legal steps to keep your abuser at bay, you can also fortify your home.
DIY Security
One of the easiest and most cost-effective ways to start is by changing out the locks (or adding additional ones). However, if your home's deadbolts are difficult to replace, you can always rekey them. This is a process, according to Family Handyman, that involves removing the lock cylinder and changing out the pins, which are essentially little fingers that determine which key fits the lock.
You can also install motion-activated security features throughout the interior and exterior of the house. Motion detector lights illuminate dark areas at night when having a light on constantly may disturb your or your children's sleep. While it doesn't serve as a physical barrier, good lighting may deter your abuser from entering the home, especially if your doors and windows are visible to neighbors. Likewise, a motion detector camera can help you keep track of what goes on in your home when you're away. HomeAdvisor explains these can be hidden virtually anywhere and are often stuffed inside toys for a discreet home-viewing experience.
An outdoor home security camera, which can connect to your Wi-Fi and stream video anywhere in the world, may also work as a deterrent against a vengeful ex. PCMag recently rated the best home security cameras for 2018. These range anywhere from $44 to more than $400. Most offer 1080p video, which can provide you with a good look at your intruder. Door and window alarms are another budget-friendly home security feature that will cause a ruckus if a point of egress is disturbed without your permission. These are attached to the surface and will sound with even the slightest movement.
Gone to the Dogs
When you're trying to reclaim your independence, getting a dog is one of the best things you can do for home safety. In addition to providing companionship, adding a furry family member can help your home feel safer. Dogs act as both a reliable alert system and fearless, loyal-to-the-death weapon against anyone who would seek to harm you. According to an authorized ADT provider, dogs are unwaveringly loyal and will develop a close bond with you and your children. If you are threatened, your dog is an exceptional first line of defense.
Monitored Systems
Depending on where you live, you may be eligible for free programs that offer no-cost security systems and monitoring for victims of domestic violence. In Rhode Island, for instance, at least one security firm has partnered with the local Coalition Against Domestic Violence and has provided free security systems to dozens of domestic violence survivors.
General Home Safety Tips
Never leave spare keys outside, especially in a location your former partner will know to check.
Look for signs of a disturbance before entering your home.
Secure sliding glass doors with a metal bar or piece of pipe along the interior track
Keep the garage door locked.
Change your home security alarm code frequently.
Let your neighbors know about your situation and ask them to call for help if something seems off.
Alert your local police department and ask for extra patrols in your neighborhood if you feel as though you're being threatened.
No amount of physical barriers can undo what's been done to you. But you can recover and live a happy and productive life beyond your abuse. Reclaiming your home's security is just one aspect of the process, but it's an important one that will pave the way for the rest of your life.
Nora Hood is a freelance writer and creator of ThreeDaily.org. She considers domestic violence to be a form of domestic terrorism. She became a passionate advocate for ending domestic violence when she began volunteering at a women's shelter while in college. She has continued her volunteer work over the years and recently started ThreeDaily.org to raise awareness about the issue while also creating a nationwide activist network of individuals who want to bring an end to domestic violence. The site fosters a community for those seeking information about, writing about, and speaking out about domestic violence.