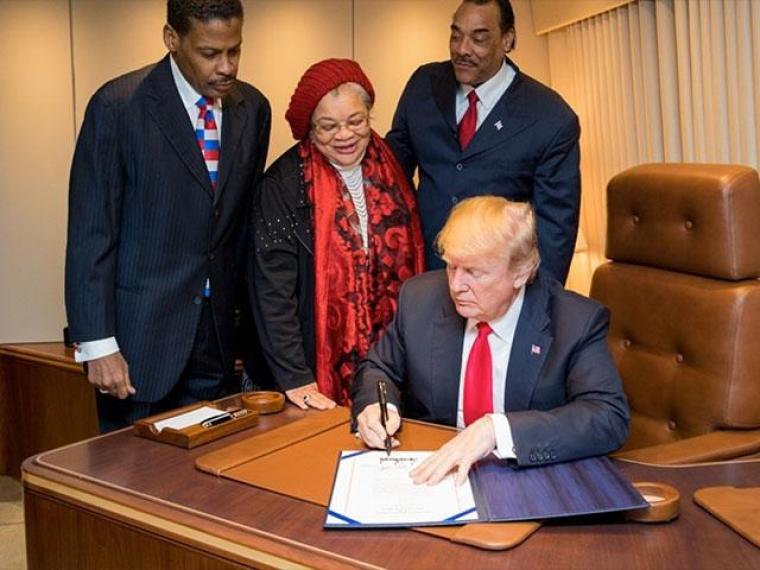 After his vulgar comments about African nations and their immigrants, one NBC reporter called Donald Trump "racially ignorant." I've heard several label his comments "insensitive." He's certainly not politically correct. But for thinking believers submitted to Christ and the Word, hoping to influence our world in Kingdom ways, we need to understand the philosophy behind Trump's comments beyond the mere fact that he is insensitive.
Last night, it finally dawned on me who Donald Trump most sounded like (minus the vulgarities) on immigration.
Margaret Sanger, founder of Planned Parenthood.
"In a democratic society where the vote of one is as good as that of another, it is a dangerous procedure to accept a way of life where the poor, ignorant, diseased and mentally and socially unfit maintain the stock of the population." Margaret Sanger
Margaret Sanger did some good things that women take for granted today, particularly gaining access through the courts to birth control methods that prevented conception that had been previously outlawed by congress. On the way, she also founded Planned Parenthood, which we all know to do far more than prevent conception, which we rightly lobby against as Christians for the millions of murders of unborn image-bearers.
I read an autographed biography of Sanger for a project in college. It was an old book, written before her death in 1966, though I don't know the exact date. I always figured her autograph in the front meant she approved the book. Her early work is fascinating to study – the very real issues she grappled with, her compassion toward women dying of back alley abortions, her desire for childbirth to be as much in a woman's control as it was in a man's. But these real issues, removed from a Christian understanding of the image-bearing dignity of every human, reinforced her beliefs in eugenics. She didn't believe, as Hitler did, in eugenics by race. She believed in it more around poverty and lack of education.
Put together a little of Hitler's and a lot of Sanger's views on eugenics and throw them toward the White House. Then watch them unfurl like a mirror on Donald Trump.
"... keep the doors of Immigration closed to the entrance of certain aliens whose condition is known to be detrimental to the stamina of the race, such as feeble-minded, idiots, morons, insane, syphiletic, epileptic, criminal, professional prostitutes, and others in this class ... ." Margaret Sanger
Christians in the United States tend to understand uniformly the problems with, say, the murder of millions of unborn babies through Planned Parenthood or the enslavement and murder of millions of Jews by Hitler. What many don't seem to get is that those actions started with a philosophy.
And that philosophy eventually led to those horrible atrocities.
Christians, mobilize yourselves, because philosophies like this lead to atrocities like this.
The basic philosophy held by Sanger and Hitler is one that is shared by Donald Trump – that some folks are worthy of protections and some folks aren't, that a nation is stronger when they limit access to it by the weak and vulnerable, that some people groups are better off left to exterminate themselves.
This is eugenics. It defies basic Christian belief, and Donald Trump's views are incompatible with Christ's.
Wendy Alsup is the author of Practical Theology for Women, The Gospel-Centered Woman, and By His Wounds You Are Healed. She began her public ministry as deacon of women's theology and teaching at her church in Seattle, but she now lives on an old family farm in South Carolina, where she teaches math at a local community college and is a mother to her two boys. She also writes at gospelcenteredwoman.com. She is a member of a local church in the Lowcountry Presbytery of the Presbyterian Church in America.
Find her online at http://theologyforwomen.org/