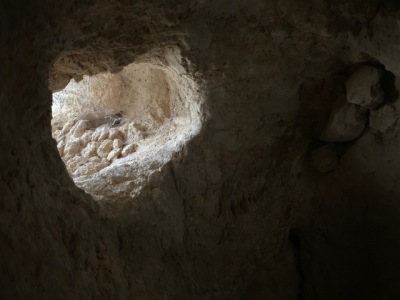 The ornate Bethlehem church sits on the supposed site where Jesus was born. As I scanned the valley below the church grounds, I imagined shepherds watching their flocks. 
Nearby caves provided shelter. Mangers tucked inside those stone caverns were used to feed and water their animals. I followed the others as we descended uneven steps leading downwards into the earth. 
The stone walls cut off sounds from above and I no longer felt Bethlehem's late afternoon breeze. 
With no room at the local inn, a young mom was about to give birth far from home. The small alcove in the earthen cave was all the privacy she would have. 
The stones felt cold to my hand.
Even with some straw, the floor would have been so hard for the laboring mother. I imagined the lowly shepherds coming here from the field nearby.
For an angel had told them, "I bring you good news of great joy that will be for all people. Today in the town of David a savior has been born to you; he is Christ the Lord. This will be a sign to you: You will find a baby wrapped in cloths and lying in a manger."
Before I took my final look at what may have been the birthplace of Christ, I did what the shepherds probably did, I knelt down in awe.
Karen Farris served in the crisis pregnancy ministry — traveling thousands of miles and speaking to over 10,000 students about their life choices — for nearly a dozen years. She became a grant writer and helps find resources for projects that serve those in poverty, mainly children. She's been a blogger since 2010 — 
Friday Tidings
 — sharing stories of faith, life, and purpose to give hope in a hurting world.