Rainn Wilson's spiritual fiction is stranger than truth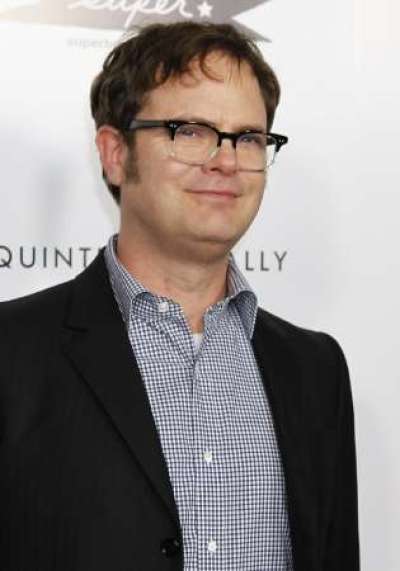 It is often said that "truth is stranger than fiction." But after listening to Russell Moore's recent interview with Rainn Wilson, it seems that some spiritual fiction is actually stranger than truth.
Wilson played Dwight Schrute in the hugely popular television series, "The Office." And he has written a new book titled, Soul Boom: Why We Need a Spiritual Revolution. Wilson espouses the Baha'i faith and seeks to integrate a wide range of ideas into his all-inclusive approach to spirituality. He dedicates an entire section of his book to a proposal for a new religion. "We need to strive to go back to so many indigenous faiths (where) art, nature, and faith were interconnected and not divergent."
On a human level, Wilson's desire to merge various religions is understandable. On a spiritual level, however, it is untenable. You see, the doctrinal positions of his preferred religions actually contradict each other. On an emotional level, Wilson's spirituality makes sense. On a logical level, it falls apart.
Jesus Christ claimed to be the only way to Heaven. "I am the way and the truth and the life. No one comes to the Father except through me" (John 14:6). So was Christ a liar, a lunatic, or Lord of all? The Messiah did not leave another option available to us, and yet Wilson attempted the impossible by trying to design a fourth option. 
In addition, the famous actor said he believes Jesus was the only way to the Father when he was alive (45:50). "I 100% believe that. And I also believe that the way to the Father when Muhammad was alive was through the teachings of the holy Koran. And now I believe that Baha'u'llah is the newest incarnation of the light." (The founder of the Baha'i faith in the 19th century.)
It is understandable why Wilson would affirm Jesus as the way only during Christ's life on Earth. It allows him to make room for other ways and other religious figures who have been prominent throughout history. But his spiritual fiction doesn't work in the real world. Such an amalgamation is not possible without redefining the way these various religions delineate their respective doctrinal positions. Changing the meaning of Jesus' words into something more palatable to man's tastes leaves you with a fictional version of Christianity.
Just as millions of people enjoy brief respites from their hectic schedule by watching episodes of "The Office," Wilson takes a respite from spiritual reality by completely sidestepping Jesus' claim that he is the exclusive path to Heaven. And of course, the bodily resurrection of Christ is another inconvenient truth for anyone determined to remake Christianity into a faith similar to Baha'i. 
Not surprisingly, Wilson creates his own narrative regarding the bodily return of Christ to Earth one day. He refers to "the return of the 'spirit' of Jesus Christ that returns in some other way ... than on the clouds with trumpets." The truth is that those who saw Jesus after his resurrection were able to touch his physical body (see John 20:24-29). Any theory that posits Jesus returning spiritually but not physically is an idea that is stranger than the truth of Scripture. 
Wilson said, "I view myself as a Bahai and a Christian. So, I do love Jesus Christ with all of my heart. I love His example. I love His words. I'm already converted. Consider me converted in the sense that I love and adore Jesus Christ" (43:59).
His new religion redefines "conversion," and also what it means to "love" Jesus. Throughout history, God's people have been labeled "adulterous" whenever they brought other gods into their relationship with the one true God. Christianity involves loving Jesus as the only God, along with the Father and the Holy Spirit. It is not possible to love Jesus with all of your heart if the Holy Trinity is merely one of a number of deities you adore. Claiming to embrace multiple religions is like claiming to be faithful to multiple wives. It is impossible to love any one of them with your whole heart because your heart is thoroughly divided.
Spiritual conversion is not accomplished by viewing Jesus as merely one spiritual guide among various prophets and religious leaders you choose to follow. Conversion changes how you look at your sin and how you view the cross. It also changes the way you look at Jesus vis-a-vis other religions. 
While man is, of course, free to choose whichever religion suits him, no one can combine the irreconcilable doctrines of various religions and then claim that such an inclusive approach provides a genuine spiritual revolution, or that it presents the truth about God and eternity. Such a misguided premise is self-contradictory. 
Dan Delzell is the pastor of Redeemer Lutheran Church in Papillion, Nebraska.