Remembering MLK and civil rights: Gospel calls us to sacrifice and serve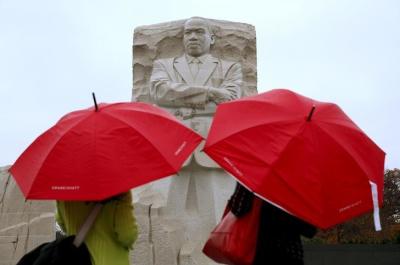 In the legacy of Dr. Martin Luther King, Jr. and the civil rights movement, we remember with gratitude the public courage and sacrifice of Dr. King and so many who put their lives and fortunes on the line to ensure Jim Crow was relegated to the ash heap of history. But it took more than speeches, marches, and social demonstrations to change how America thought about racial and ethnic inequality. It ultimately took the truth of God's Word. 
Today's diversity trends in higher education are viewed through a secular and humanist lens, antithetical to the Gospel of Jesus Christ. And while some may have good intentions, their vision for unity and reconciliation lacks the fundamentals of biblical wisdom and authority. They fall dramatically short of providing real answers that can only come through Christ and the Gospel. 
At Liberty University, we are training Champions for Christ committed to the exclusivity of the Gospel of Jesus Christ and the truth of God's Word. We are equipping our students from diverse backgrounds with the Gospel while preparing them for a world that does not hold to biblical categories for unity, equality, or diversity. This is our greatest challenge. As a university, we know that we cannot love another as Christ loved us if we lose sight of our mission to reflect the heavenly kingdom, a kingdom in which people from every tribe, tongue, and nation who have called on the name of the Lord are citizens.
In Genesis, God's design and purpose for salvation from the beginning wasn't exclusive to just one family or people group but was a promise given to all. It was through Abraham that all the nations of the world would be blessed. Jesus said to the religious teacher Nicodemus in John 3, "For God so loved the world, that He gave His only begotten Son that whosoever believed in Him would not perish but have everlasting life." That promise is clearly for everyone, and that is why we are intentional about reaching everyone for Christ.
Likewise, we see in 1 John 4:8 that our love for one another is one of the surest signs that we belong to the Lord. John writes, "Anyone who does not love does not know God, because God is love." Jesus taught that the second greatest commandment is to love our neighbor as we love ourselves. John makes it clear that where that love is absent, a genuine love for God is also absent.
That is why at Liberty we have devoted MLK Day, which became a federal holiday under President Reagan, and a National Day of Service under President Clinton, to share the love of Christ and advance the Gospel with our students and surrounding community. This includes students serving at the Salvation Army, Habitat for Humanity, and Big Brother Big Sister at a total of nine different locations surrounding our university. I am grateful to see our students give up their free time and their day off to become the hands and feet of Jesus and serve others.
I believe that Christian service does more to promote unity, equality, and diversity than anything our contemporary politics can achieve. Jesus told us that He came to serve and to give His life as a ransom for many. There is nothing more biblical or unifying than to give our life and serve our neighbors in the cause of Christ. And our students are doing just that. 
At the heart of our mission is the call for biblical reconciliation. This is the call to surrender our lives to Jesus Christ and His kingdom. Biblical reconciliation cannot happen without believing in Christ, repenting of sin, and receiving His forgiveness. That is the basis on which the love of neighbor is predicated. You cannot love your neighbor truly if you do not know the love of Christ. So, whether it be on MLK Day or any other day of the year, we aim to fulfill the Great Commission by being theologically orthodox, culturally relevant, and, most importantly, led by the Holy Spirit. This is where secular and biblical movements diverge because there is only one authentic Gospel. 
I have had the unique privilege of working for some of the most influential businesses in the world, but the opportunity to serve university students eclipses them all. To see the love of Christ displayed in the shining faces of young people from diverse nationalities, ethnic groups, socioeconomic backgrounds, and more is truly inspiring. It is only the love of Jesus Christ that can truly do that. I am grateful that we have that opportunity on MLK Day to remember, sacrifice, and serve because of the Gospel of Jesus Christ.
Shon Muldrow is the Senior Vice President of the Office of Inclusion, Diversity & Equity, serving as Liberty's Chief Diversity Officer. He is responsible for programming in areas of community engagement, training, development, recruitment, and retention. Muldrow has extensive executive leadership experience working with Fortune 500 companies.