So, What Did Gabriel (and the Magi) Know?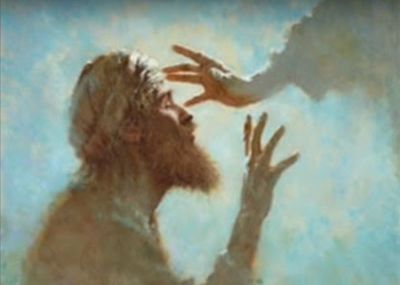 Have you ever wondered what the ancient people in the East knew about "the Anointed One" – "the Christ" of Christmas – before he was born? Or why they were eager for his upcoming ministry? There had to be special background knowledge available to the famous wise men who visited and worshipped the baby Jesus.
Like those ancient days when Jesus Christ the Lord was born, our time is one of political, social and moral upheaval. What mattered to these ancient people? How intensely important is it to us now? In the process of finding the answers to these questions, I came across an incredible account from the Book of Daniel.
Most of us know the story of the prophet Daniel whose remarkable courage and devotion to God landed him in the lions' den without so much as a scratch from the voracious lions. No wonder he is loved and admired. But there were other awesome episodes in Daniel's life.
One event begins with Daniel in prayer and ends with a visit from the angel Gabriel. What message did the angel Gabriel have for Daniel that we need to know? From the very one who 550 years later would announce to Mary: "Fear not, Mary, for you have found favor with God... You will conceive and give birth to a son, and you will name him Jesus. He will be very great and will be called the Son of the Most High...."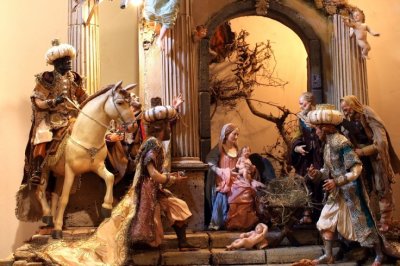 Back to Daniel, whose intense, passionate prayer is inextricably tied to the magnificent Annunciation that Gabriel would later reveal to Mary. Daniel's prayer is remarkable in three ways. First, within 16 dramatic verses in Daniel 9, he finds 13 different ways to ask God's forgiveness for himself and for the Jewish people – for their sins and iniquities (inward sin conditions). Second, Daniel concludes his intense prayer with a plea for God's attention: "Lord, listen! Lord, forgive! Lord, hear and act!" Daniel's words show how intimate he felt with God that he could make such bold demands. Third, at the end of his prayer, Daniel appeals to God's own Name: "For your sake, my God, do not delay, because your city and your people bear your Name." God's Name matters, then and now.
After Daniel's especially bold and powerful prayer, something even more powerful happened—the angel Gabriel rushed to him with a special message from the Lord. In fact, Gabriel entrusted to Daniel one of the most remarkable prophecies of the Christ and revealed core aspects of the Christ's work and ministry. Most amazing is the formula Gabriel gave to Daniel for calculating the time of the Christ's appearing and transforming ministry.
Very significantly, in this historic divine encounter, Daniel notes that Gabriel arrived at "about the time of the evening sacrifice" (9:21). Curiously, since the Temple had been destroyed about 70 years before, there was no evening sacrifice. However, Daniel still grieves over that horrific loss and continuing spiritual vacuum. No Temple. No splendid worship service. No evening sacrifice. But Daniel still observed the special time.
Gabriel announced to Daniel the astounding truth that the divine Messiah, the Christ, would also become the ultimate Sacrifice, "put to death, but not for himself" (9:26). In fact, the coming Messiah – "the Anointed One," "the Christ" – was going to (1) bring spiritual rebellion to an end, (2) put a stop to sin and (3) and atone for "iniquity," the inward sin condition – and do even more (see 9:24)! God's grace is so awesome! The Christ is not primarily a political presence. Far better, he atones for our iniquities—something we could not do for ourselves!
Amazingly, about one hundred years earlier, Isaiah had alluded to the same stunning prophetic fact in Isaiah 52 and 53). In Isaiah 53:5-6 and 11, for example, that prophecy also focused especially on God's honored Servant paying for our iniquities, our inward sin condition (Isaiah 53:5-6) and bearing our iniquities (53:11).
Like Isaiah and the other prophets of Scripture, Daniel's own hope was that the Christ would come to answer his heart's cry for atonement and forgiveness – more basic than political liberation. Now well into his 80s, he was even more than eager for that restoration. He had experienced first-hand the gruesome Babylonian destruction of the Temple and Jerusalem, had been captured and brought as a slave to Babylon. And Daniel had lived through nearly all of the prophesied 70 years of the Israelites' Babylonian captivity (Daniel 9:2 and Jeremiah 29:10).
So, can we imagine how Daniel must have felt when Gabriel gave him the prophecy that the Messiah (sometimes literally translated "the Anointed One" or "the Christ") would do his main work after seven "sevens" (49 years) and then sixty-two "sevens" (434 years) – for a total of 69 "sevens" (483 years) after the work of restoring Jerusalem would begin? That would be a long time after Daniel, who would not live to see the Christ on earth. But Daniel was thrilled that the Messiah would atone for all iniquity. Daniel's intense, passionate prayer was answered in a hugely significant way.
The historic timeline is as amazing as the original prophecy from Gabriel. Consider that the work of the restoration of Jerusalem which would start Gabriel's count-down to the Christ's ministry was authorized by Cyrus in around 538-536 BC, at about the very time of Gabriel's prophecy. However, the actual restoration of Jerusalem did not begin under Cyrus, but began 80 years later in the reconstruction of the Temple under the guidance of Ezra in 458 BC, with the authorization and support of the Emperor Artaxerxes.
Gabriel's prophecy clock for 483 years starts at 458 BC. More reconstruction for the rest of Jerusalem was led by Nehemiah beginning in 444 BC, with the authorization and support of the same Emperor Artaxerxes. These dates would place the beginning of the Messiah's ministry literally 483 years after 458 BC, which,according to Gabriel's prophecy, would be AD 25.
What is so significant about AD 25 is that Jesus was about 30 years old at that time (since Jesus was likely born in 5 BC). This date of AD 25 marks the very time of the beginning of Jesus ministry (Luke 3:23). Gabriel's amazing prophecy had a wonderful fulfillment in Jesus' birth, life, ministry, death, and resurrection!
Even more amazingly, Gabriel revealed to Daniel what would be the deep, ironic, and stunning mystery of the Christ's ministry – "The Anointed One will be put to death, but not for himself" (Daniel 9:26 NIV's literal translation in the footnote). God's promised "Anointed One," the Messiah, the Christ would not rule as a new and righteous emperor, but as one who would die for others. This shocking, life-changing prophetic revelation is essential to the message of the Gospel, which would be fully revealed in our Lord Jesus Christ of Nazareth.
It's not inconceivable that the very literate Magi, using the formula from the Book of Daniel, later calculated that the Christ would have to be about 30 years old to accomplish his ministry. No wonder they were ready and eager to travel a great distance "from the East" when they saw the special Bethlehem Star in about 5 BC.
Keep in mind that Daniel wrote down this prophecy of the Messiah while he was in Persia (present-day Iran). Daniel's book was important enough to have been widely read among very literate peoples in Persia, India, and perhaps even China and elsewhere in the Mideast and East.
To be clear, Daniel's impressive history of serving three successive powerful emperors as a very wise, competent, and trusted advisor and government leader put him in a special category. Besides, as an official advisor to emperors, Daniel was one of the "Magi" of his own time, a wise-man, a wise-person – in a role similar to the later Magi at the time of Jesus' birth. The Magi were not kings, although some Magi were kings' advisors, kings' wise-persons, as was Daniel.
Wise-man Daniel received his wisdom from the Lord as a product of passionate prayer, such as when Gabriel presented to him a precise formula for discerning the birth of the Messiah. And after Gabriel's 69 sevens of years, the same angel Gabriel personally visits Mary with his breath-taking Annunciation of the Christ.
What did the famous Magi know about the Christ? How truly wondrous to realize that God's long-standing plans, the ultimate love-story of history – revealed by the angel Gabriel to Daniel and later to Mary – add greater meaning to our Christmas celebrations. May this knowledge make our Christmas joy even more joyous as we celebrate the birth of the long-awaited Savior!99 May we receive anew the grace of "the Christ... put to death, but not for himself," the Lord Jesus Christ who fully atoned for our iniquities.
Dr. Paul de Vries is the president of New York Divinity School, and a pastor, speaker and author. He is a specialist in Biblical hermeneutics and ethics and a life-long advocate of Biblical activism.