The Conditions of Unconditional Love Part 1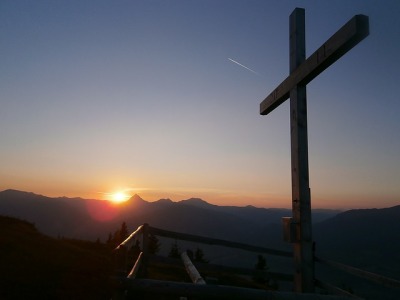 Recently while exchanging texts with another Christian the subject came up of those times when it's difficult to communicate with someone else. I texted back that I felt the solution was to just invite Jesus into every conversation. It was at that very moment that the most wonderful thing happened.
All of a sudden I felt an overwhelming sense of the Spirit of God and His love. From my perspective at that moment this love I was feeling was certainly undeserved. I felt this overwhelming love for everyone I knew and everyone I was around for the rest of that day. It was a Wednesday night and I went into our pastor's office before church and excitedly told him about what I was feeling. He smiled because he too had experienced that level of supernatural love from God. I just went about saying to the Lord over and over again; "Lord I am a very wealthy man. Lord, please, how do I walk in this and how can I keep it forever?"
However, it was not the Lord's will for me to live on that mountaintop; reality eventually set in and my normal day-to-day emotions returned. I share that experience to illustrate that I do understand the love that Paul described when he said; "And to know the love of Christ which passes knowledge" Ephesians 3:19a (KJV)
One of my most used sermons as a revivalist is from 2 Chronicles 7:14 (KJV); "If my people which are called by my name, will humble themselves and pray, and seek my face, and turn from their wicked ways, then I will hear from Heaven and forgive their sin and heal their land."
Because of the sermon I did some research on the phrase "If you, then I." As it turns out, it is a grammatical term. It's called, believe it or not, a "conditional sentence." Actually, God's word is full of conditional sentences. As a matter of fact, there is a condition to every promise in God's Word! I challenge a reader to show me a promise in the entire Bible without one! Even if a promise only requires faith it is still a conditional promise!
For us to experience God's unconditional love, we must meet the first condition of being "born again." Jesus said in John 3:3b (KJV): "Except a man be born again he cannot see the Kingdom of Heaven." From the very beginning, we are confronted with the choice of whether or not to be saved. We are rightly taught that in order to become a member of the family of God, we must be "born again." We do this by sincerely asking forgiveness of all our sins and asking Jesus by His Spirit to come and live in our heart.
The second condition we are faced with is what we must learn to do, is to be able to communicate with our Heavenly Father after conversion. That condition is the one of learning to pray. Jesus taught in Matthew 6:33(KJV); "But seek ye first the Kingdom of God and its righteousness and all these things will be added unto you." Oops! There's the third one right away. Not only must we seek the Kingdom in learning to pray, we must seek the Kingdom of God's righteousness too! Wow, the conditions are piling up quick here folks!
The truth is that the list just goes on and on. We soon realize that embedded in God's instructions there are many many conditional promises in the Word to the new believer. There are also many more to believers as they mature in the faith.
You might ask why the term "unconditional love" is used so often in the church to describe the love of God. Here is how that all came about. The term "unconditional love" migrated from psychological circles into the church sometime in the 1970s. Someone decided that it was the best translation for the Greek word "agape" which is the word for the type of love God gives. The term took off like a brush fire on a hot windy day. People everywhere began to use the term in their teaching and preaching because it sounded so right and it sounded so good! However, according to Vine's Bible Dictionary, the word "agape", interpreted by so many to mean "unconditional love" means "undeserved love." Undeserved love is something quite different; it means "merciful love." Vine explains that most perfect expression of agape love found in scripture is when God gave His only begotten Son for the sins of the world.
In serving our Lord, I have come in contact with believers who have been steeped in the "unconditional love" teachings. I have observed that they often exhibit an attitude, an attitude that corresponds greatly with the narcissism of our self-focused society. The attitude of self-entitlement! This attitude runs directly contrary to the preaching of the cross and of the crucified life. It is my belief that this is the reason why churches who choose to preach a lot of messages using unconditional love as their foundation of truth also tend to eliminate the cross message. To them Jesus is like a gold card with an unlimited spending limit. These followers tend to be lax in their serving and in their morals. Why? It is because they have taken the semantics of the phrase "unconditional love" to the furthest degree and like spoiled children believe they can do whatever they want.
In contrast many of your older Christians have been raised on sound doctrine and still believe in God's gift of "agape" love, as an undeserved love, a love, which is humbling. They believe that they deserve nothing but hell and got heaven instead. It humbles them to a life of service to the King of Kings. They tend to make very few demands of Him for the here and now. May God likewise open our eyes to solid doctrine and an appreciation for His unfathomable gift of salvation!
Rev Nolan J Harkness is the President and CEO of Nolan Harkness Evangelistic Ministries Inc. since 1985. He spent most of his adult life working in youth ministry. He also felt the calling of Evangelist/Revivalist and traveled as the door was open holding evangelistic meetings in churches throughout the Northeast. His website is www.verticalsound.org.