Outcomes and entanglements: Theology, science testify Good Friday, Easter (part 2)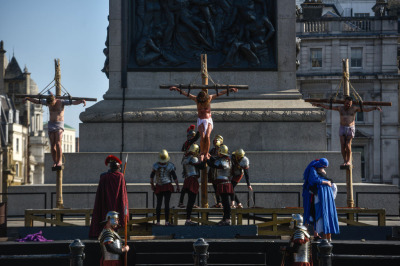 The approach of Good Friday and Easter testifies to the awesome reality and profound implications of quantum entanglement, and of the beauty implicit in entanglement on a spiritual as well as physical scale.
As I stated in Part 1, I am not a trained physicist, but that does not stop me from thinking about the wonders of what Albert Einstein called (with some disdain) "spooky actions at a distance."  Contemporary science sees entanglement as the outcome when sets of individual particles interact with such intensity that they influence one another no matter how far away they are from each other—ranging even across galaxies. However, as science discovers more about the nature of quantum mechanics and especially entanglement, the more illuminating the whole idea. Approaching entanglement from the Bible's theological perspective makes the phenomenon even more amazing and impactful.
Spiritualists of all sorts have picked up on this and are drawing mystical implications about the phenomena. For me, however, studying entanglement from a biblical perspective has resulted in moments of illumination, wonder and praise. Something happened on that bloody Friday, and three days later. It was nothing less than an entanglement between the transcendent realm of Heaven and the earthly world, an entangling of the Heavenly and the material on a colossal scale.
The earthly events had cosmic implications. Jesus Himself revealed it when He told the repentant thief, "Today you will be with Me in Paradise." Just so, Entanglement means that Jesus has wrapped Himself in the punishment for our iniquities, and entangled us in His heavenly victories.
Saul of Tarsus would enter into this entanglement, which no doubt surprised him as well as others who knew him: "I am crucified with Christ, nevertheless I live," he declared in a letter to the church at Galatia (Galatians 2:20).  Paul expressed the idea of entanglement clearly when he wrote, in that same passage, "and it is no longer I who live, but Christ lives in me…"
The idea of being "in" Christ was fascinating to St. Paul, and "in Christ" became a major theme in his writing and speaking. Few passages show it as clearly as some of those appearing in Philippians, like, "For to me, to live is Christ, and to die is gain" (Philippians 1:21). Paul says that his life's goal is to be "found in Christ and the power of His resurrection and the fellowship of His sufferings, being conformed to His death; in order that I may attain to the resurrection from the dead." (Philippians 3)
That is a powerful description of entanglement with Christ: We are entangled in His atonement.  If He goes to the cross then we go there through Him, but it is Christ who bears the pain. Gloriously, however, if He comes out of the tomb after three days all those entangled with Him share in His resurrection.
God's plan of salvation, as violent as it is on the Savior, is a matter of life for those entangled with Him.
Jump ahead to the Revelation that Christ gives to the Apostle John, in exile on Patmos. Elderly John is huddled in a cave when he receives the apocalypse—the unveiling of God's great plan and a powerful vision of spiritual entanglement. As St. John writes his letter to the seven churches of Asia, he first describes his participation in Christ. He says that he was a "fellow partaker in the tribulation and kingdom and perseverance which are in Jesus…"  
He writes as he begins the report on the Revelation given him through that "participation" in Christ and His sufferings, that he was "in the Spirit on the Lord's day." (Revelation 1:9-11) That is, through his entanglement with Christ there is also entanglement with the Holy Spirit. Participation in the Son of God in His life and ministry results also in one's relationship with the Holy Spirit.
Further, to be entangled with Christ is to enter the fellowship of the saints, so that there is entanglement with the global body of Christ. "What we have seen and heard we proclaim to you too, so that you may have fellowship with us; and indeed, our fellowship is with the Father, and with His Son, Jesus Christ." (1 John 1)
So, may theology and science come together in our hearts and minds this Easter and shine a light on the brilliant, logical, symmetrical, and glorious plan of God for our salvation.  May the cords on this amazing entanglement never loosen or unravel, and may the outcomes of our entanglement with Father, Son, and Holy Spirit result in blessing for all with whom we come into relationship with, as well as for ourselves personally.
Wallace B. Henley is a former pastor, daily newspaper editor, White House and Congressional aide. He served 18 years as a teaching pastor at Houston's Second Baptist Church. Henley is author or co-author of more than 25 books, including God and Churchill, co-authored with Sir Winston Churchill's great grandson, Jonathan Sandys. Henley's latest  book is Who will rule the coming 'gods'? The looming  spiritual crisis of artificial intelligence.