This Holiday Season, Turn Off Devices and Plug Into Family
As Americans, our lives are dictated by technology.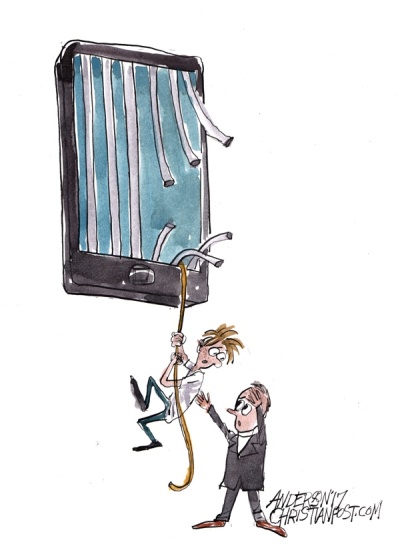 Here's the tragic irony of the holidays in modern America. We travel great distances from all corners of the country via planes, trains, cars and buses to be with our family. Then, once we're finally gathered together at home, we plop down onto couches and stare into our smartphones and tablets, both mentally and emotionally isolated from our kith and kin.
For some, let's be honest, that might be the goal. But for others, they've just unconsciously succumbed to technology and, hence, innocently forgotten what they're missing.
Genuine family time is what makes the holidays special. Past generations are able to readily recall the heartwarming moments of years past. Yet if we're now spending all our time with our heads down with the glow of our devices illuminating our faces, what unique moments will we eventually have to share with our own kids and grandkids? Are we even making memories and having real experiences anymore?
There's a time for everything, and the holidays are the time to turn off our devices and personally connect with those around us. Everyone in the family might be at different stages in life, but the beauty of the season is discovered in the moments where nothing else matters except for being with the ones we love.
As Americans, our lives are dictated by technology. We all know it. And we're not even entirely accustomed to the ways in which it alters our interpersonal relationships. It's true Skype and FaceTime, for example, have given us the ability to draw closer despite great distances. For that, we should be grateful. But in those rare moments we're all together in the physical presence of each other, it's critical to temporarily cut the cord.
Presents are exciting, but what always made the holidays special were personal exchanges: meeting — and vetting — new boyfriends and girlfriends, getting to know fiancés, and playing with adorable nieces, nephews, and grandkids. Teasing siblings about old habits, finding out your friend switched to a new major after the fall semester, and even settling old squabbles brought the truest warmth into the home.
Ensuring quality time requires effort and intentionality. I'd say passing along stories of my family told to me has been the best tool for connecting different generations of Webers. My children and grandchildren have noted throughout various points in their lives that knowing our traditions, triumphs, and roots has given them a sense of stability in often unstable times.
Long-winded prayers at the dinner table, lame dad jokes that still break out smiles and laughter, and old tales that remind us of the hard times and the good times through which we've passed together. These are things that get us looking at ourselves, helping us figure out who we are, and reminding us that we're never really alone in this crazy world.
So make a conscious effort to dedicate some time to learning about yourself and your history through the older members of your family. Ask what they were doing at your age, about the mistakes they've made, the regrets they have, their childhood dreams, their achievements, their first love. There's a good chance your parents, grandparents, aunts, and uncles have lived interesting lives. And you'll undoubtedly be surprised to find out how much you have in common. Seeing as you're family, those commonalities are no accident.
This holiday season, put your device on airplane model and saddle up next to your loved ones. Inquire about the past and get ready for wisdom and humor that you won't find anywhere else in the world. You only get so much time with your family, so make it count. Because after all, while your phone might be buzzing, the clock is also ticking.
Dan Weber is president of AMAC (@MatureAmericans), the 1.3 million-member Association of Mature American Citizens.