US Embassy warns of 'high' terror threat in Indonesia after church bombing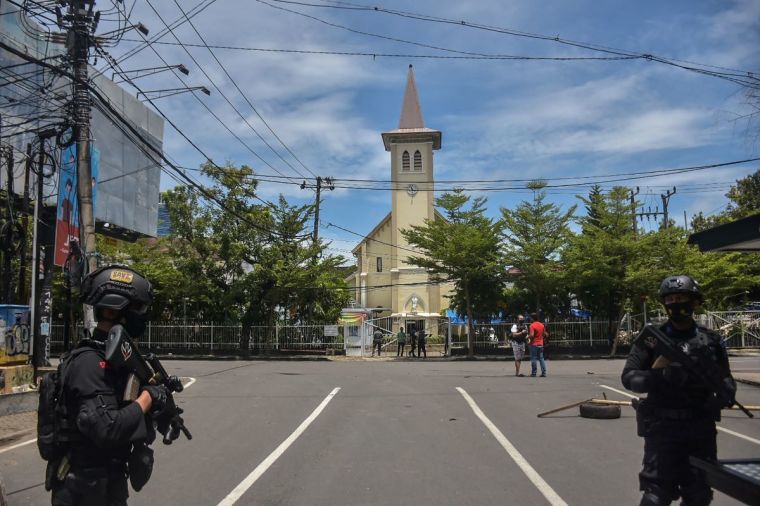 The U.S. Embassy in Indonesia has issued a security alert for American citizens, asking them to maintain increased security awareness and heightened vigilance at places of worship following a slew of terrorist attacks, including a church bombing on Palm Sunday. 
"The U.S. Embassy encourages American citizens in Indonesia to maintain increased security awareness," reads the notice issued last Wednesday. "Indonesian authorities warn that the terrorism threat level remains high."
The warning comes after two suspected terrorists attacked a church in Makassar, Sulawesi, on March 28 and after an assailant with an Airsoft gun attacked the Indonesian National Police headquarters in South Jakarta on March 31. 
According to the alert, national police may visibly increase its presence at Indonesian government buildings, tourist sites, churches, malls and other venues. 
The U.S. Embassy advises heightened personal security awareness, particularly in public areas.
The embassy also asks American citizens to exercise additional vigilance, especially in places of worship, crowded streets, shopping areas and locations with large crowds.
People are also advised to avoid demonstrations and large gatherings. People should also refrain from displaying "signs of wealth, such as wearing expensive jewelry or watches."
Persecution watchdog International Christian Concern reports that the two terror attacks in recent weeks, along with the arrest of nearly 100 suspects, reveals that terrorism is a significant concern for the government. 
The U.S.-based nonprofit notes that pro-Islamic State cells and lone wolves still pose severe threats in the country, though they are not as powerful as before, thanks to anti-terrorism efforts.
At least 20 people were injured in the March church attack, and the perpetrators — a newly-married couple in their 20s — were killed. The pair are believed to have been affiliated with Jamaah Ansharud Daulah (JAD), a local extremist group that pledged its allegiance to the Islamic State.
The JAD, Indonesia's most active terror cell for the last two years, was also behind coordinated attacks on three churches on May 13, 2018, in Surabaya that killed at least 13 people. Those churches include Immaculate Saint Mary Catholic Church, Indonesia Christian Church and Surabaya Central Pentecost Church.
JAD "participates in the financing, planning, facilitating, preparing, or perpetrating of acts or activities" in conjunction with groups like the Islamic State and al-Qaida, according to the United Nations Security Council.
Muhammad Syauqillah, head of the University of Indonesia's terrorism studies program, told The Australian that many terrorists believed they would receive religious rewards twofold if they carried out an attack in the holy month of Ramadan, which this year runs from April 12 to May 12. 
Ramadan is observed by Muslims worldwide as a month of fasting, prayer, reflection and community.
President Joko Widodo condemned last month's bombing and instructed security forces to "unearth the terror networks down to their roots."
"Terrorism is a crime against humanity and is not at all related to any religion," he said. "I ask every member of the public to fight terrorism and radicalism that go against the values of religion and our culture as a country that respects multiculturalism."
Indonesia, where Christians form about 10% of the population, is ranked No. 47 on Open Doors USA's World Watch List of countries where Christians face the greatest levels of persecution.