Where to Watch 'God's Not Dead 2' for Free Online
Sponsored by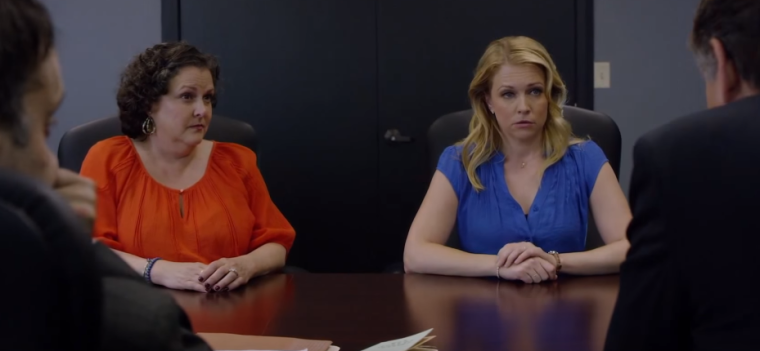 Christian companies are following in the footsteps of Netflix and Hulu by offering viewers streaming services with alternative faith and family-friendly content to watch.
At the top of the faith-based list of options is Pure Flix, the company behind the combined $70 million grossing films "God's Not Dead" and its sequel "God's Not Dead 2." Pure Flix, like Netflix and Hulu, offers the first month of service free, giving viewers the option to see some of their favorite films without having to pay, including their biggest hit "God's Not Dead" and its sequel.
Released in theaters in April 2016, "God's Not Dead 2" had an impressive opening weekend at the box office. The faith-based film went toe-to-toe with "Batman v Superman: Dawn of Justice," and "My Big Fat Greek Wedding 2" but still earned an estimated $8 million, taking the fourth spot at the box office that week, according to boxofficemojo.com.
The highly anticipated sequel shines a light on the religious freedom battles being waged across the country in which many Americans may not be aware of. Using a similar formula as the first film, the creators of "God's Not Dead 2" move from scientific proof of God's existence to evaluating historical proof of Jesus' life on Earth.
With a female lead this time around, '90s icon Melissa Joan Hart ("Sabrina the Teenage Witch," "Melissa & Joey") wore her heart on her sleeve for this role with her convincing performance of a persecuted teacher named Grace Wesley.
"When a devout Christian and high school teacher Grace Wesley (Hart) is asked a question in class about faith, her response lands her in a battle of choice. In the sequel to the award-winning film God's Not Dead, see why she concludes, I would rather stand with God and be judged by the world than stand with the world and be judged by God'," the Pure Flix synopsis of "God's Not Dead 2" reads.
On screen, Hart is joined by Hollywood actor Jesse Metcalfe ("John Tucker Must Die'), legendary singer Pat Boone, and filmmaker/actor David A.R. White.
The movie also received rave reviews from fellow Christian leaders and filmmakers.
Former Arkansas Gov. Mike Huckabee described the film to The Christian Post as "a riveting story, brilliantly told, and one that is absolutely plausible as if it were taken from today's headlines. A must see for every believer."
Pastor Tony Evans of the Oak Cliff Bible Fellowship in Dallas, Texas, added, "'God's Not Dead 2' is a powerful reminder that following Christ comes with a cost. But like the main character in the movie, I would rather stand with God and be judged by the world than to stand with the world and be judged by God!"
Pure Flix offers their streaming service for an affordable at $10.99/month ($99.99/year), but viewers can take advantage of their 30-day free trial now and watch "God's Not Dead 2" along with a vast selection of other family-friendly offerings.