No Spiritual Nutrition in Bible Nuggets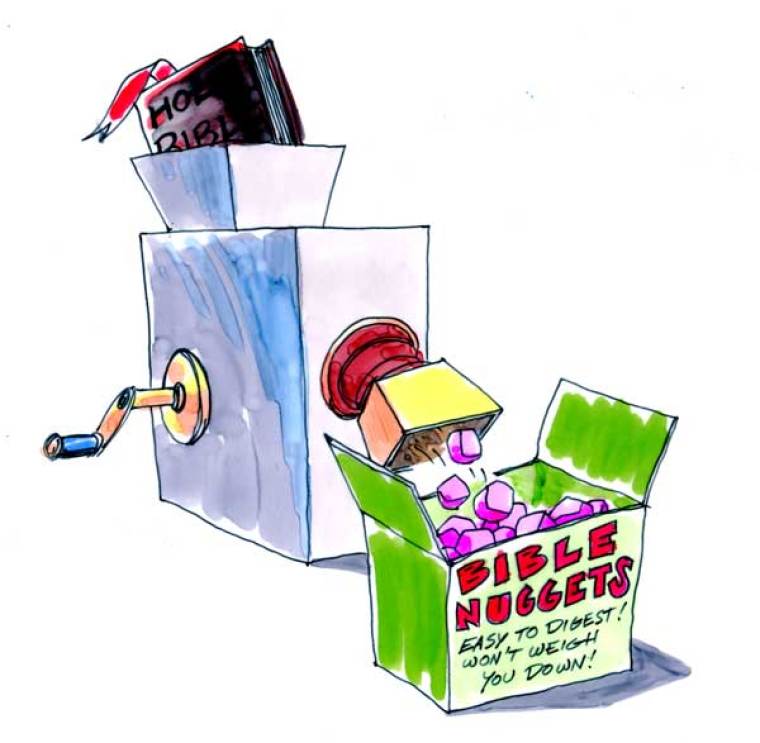 I've mentioned before on BreakPoint the cruel game I sometimes play when I speak to Christian students. I'll give a quiz on pop culture, with questions such as who sang this song, and who starred in this movie, and so on. As you might expect, the students get 100 percent on this quiz every time. But then, without breaking stride, I'll throw in a Bible question like "Who was the lead character in II Samuel?"-and you can just hear the crickets chirping.
Look, when Christians know far more about entertainment trivia than the Bible, we've got a problem. And it's ironic, given we have more access to the Bible than any other time in history.
According to the American Bible Society, the average household has 4.3 copies of the Bible. This doesn't even count the ones on our smart phones and iPads, or the pew pockets in every church. We've even personalized the Bible for every possible life situation: we've got the Teen Bible, the Women's Bible, the Dad's Bible, the Leadership Bible...you name it. And yet Gallup has dubbed the United States "a nation of biblical illiterates."
Read more at http://www.christianpost.com/news/beware-bible-mcnuggets-when-reading-the-bible-can-be-spiritually-unhealthy-98615/#f6Vthc3IK5TDE8pF.99