First Christian Church leader Tim Dayton dies less than a month after revealing cancer battle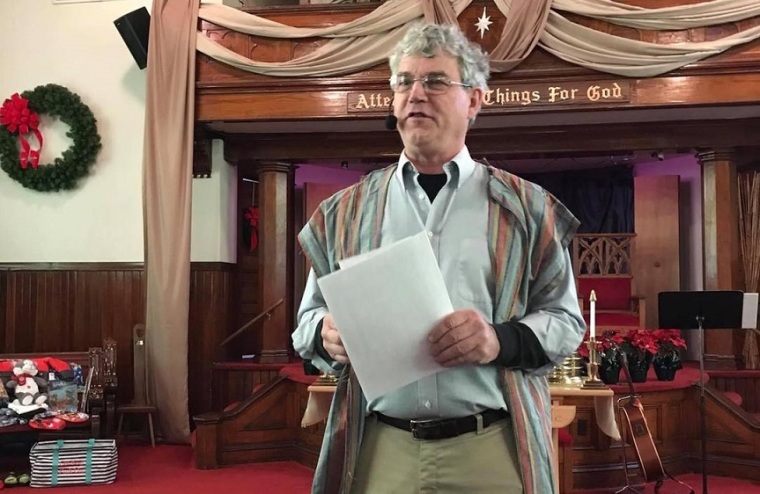 First Christian Church Disciples of Christ leader and REACH founder, Tim Dayton of Roanoke, Virginia, died in his sleep Monday after battling stage 4 pancreatic cancer for more than a year. He was 66.
"Our dad passed away last night at 11 PM. He was not in pain or confused; he simply went to sleep and then did not wake up," his daughter Robyn Dayton wrote in a statement published on Caring Bridge Tuesday.
"We, his family, were sitting around his bed-sharing memories and laughing as he slept. The last sounds he was surrounded by were those of family, humor, and love. We miss him fiercely but are so grateful that the final phase of his cancer was not prolonged. It is a gift to know that he is not in pain or anticipating pain any longer."
Pastor Dayton revealed on the Caring Bridge platform last month that two months after celebrating his 65th birthday in February 2020, he learned of his advanced cancer.
"On February 19th, 2020 I went out to dinner with friends to celebrate my 65th birthday.  That night I suffered severe stomach pains," he wrote. "Two months later and weighing 45 pounds less, I was diagnosed with Stage IV Pancreatic Cancer.  I knew that it was serious when it only took three days for Social Security to qualify me for full disability."
After a year of unsuccessful treatments, the beloved pastor was placed under hospice care until he slipped away peacefully Monday night.
"In the last twelve months we have worked with oncology and taken advantage of all the chemo and radiation protocols that I qualified for, tried several surgeries, worked with a functional medicine doctor through special diets, supplements and IV's," he wrote last month. "And now I am officially under Hospice care (they are great by the way), and all my medical costs are covered."
His daughter further explained that the family would not celebrate his life with a memorial service at his request and shared a statement of his wishes he wrote before he died.
"I have always said that at the end of the day we each want to go to sleep knowing that we've made a difference. And as I reflect back on my life, I see this current phase as both a continuation of that wisdom and a recognition that it will be others who go on making that difference. This has led me to plan a celebration of life, not my life, but a celebration of all life and more importantly a celebration of what we're collectively doing to make life the best it can be for as many beings as possible," the late pastor wrote.
"To give everyone an opportunity to celebrate life, in lieu of a funeral, and regardless of where things are with my health this fall, we are planning a Day of Service in Roanoke on October 23, 2021. This day of service will be organized by REACH and all are invited to participate in activities taking place in Roanoke, or if you can't be in Roanoke, to serve others from wherever you are."
REACH is an umbrella organization for five programs, including Summer Service Camp, Alternative Breaks, Neighborhood Revitalization Projects, Community Connections, and Corporate Volunteering in Roanoke. 
Through these programs, the nonprofit founded by Dayton in 2010 has been working to restore hope, alleviate loneliness and empower individuals by bringing people together to transform homes, lives and communities.
Rev. Jim Rivers, who served as pastor at First Christian Church for more than 30 years before Dayton, told The Roanoke Times that the late pastor left behind a legacy of great love and compassion.
"There was a connection between First Christian and REACH when its young members would stay at the church building during their summer visits. We ordained him at the church itself, and he pastored it for the past three years," Rivers said.
"He believed in working ministry. He would be one that would say, 'I'll show you my faith by my work.'"
Brad Stephens, who Dayton selected as the next executive director for REACH, told the publication that homes rehabilitated through REACH are tangible results of Dayton's efforts.
"He was always willing to meet people where they are. He would take the time to meet with anyone and learn their story," Stephens said. "He was able to combine this compassion with his internal drive and passion to create a better world to touch so many lives in Roanoke and beyond."