Christian college defends termination of employees who used pronouns in email signatures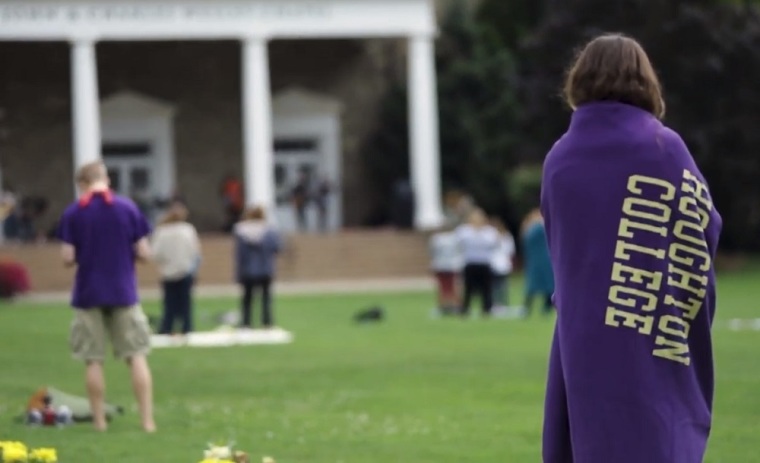 A private Christian liberal arts college with over 800 students in upstate New York has defended its termination of two employees who included their pronouns in the signatures of work emails after pushback from hundreds of students, alums and faculty. 
A petition addressed to Houghton University President Wayne Lewis Jr. and other administrators at the Wesleyan Church-affiliated school expresses concern about the termination of "residence life staff for refusing to remove pronouns from their email signatures and expressing their personal beliefs publicly."
The petition, originally submitted on April 28 following the termination of residence hall directors Raegan Zelaya and Shua Wilmot, has amassed 753 signatures from Houghton alums, faculty and current and former students as of Monday. 
The petition requests that "the current Houghton administration unequivocally affirm their commitment to charitable and respectful dialogue, not just in speech, but also in action." Signatories urged the school to "acknowledge that there is a range of views reasonably held by faithful and active Christians on topics of gender, sexuality, and race."
"In practice, this would mean a broadened understanding of the views that are acceptable for staff, faculty and chapel speakers to hold and express," the petition states. 
In a May 1 response to the petition, Lewis declined to sign the request.
"Houghton has not and does not require that all students be Christians, much less come from the same Christian denomination or tradition," Lewis wrote. 
"While we require that all Houghton employees be active Christians, our employees come from a range of Christian traditions. We do, however, require as a condition of employment that all employees be respectful of the positions, doctrine, and beliefs of the university," he added. "However, Houghton unapologetically privileges an orthodox Christian worldview, rooted in the Wesleyan theological tradition." 
Every Houghton employee affirms their understanding of those commitments at the beginning of their employment, Lewis maintained.
"This is not a new position for the university," Lewis states. 
Wesleyan Church teaching declares that "gender confusion and dysphoria are ultimately the biological, psychological, social and spiritual consequences of the human race's fallen condition." 
Neither the petition nor Lewis' response directly name the personnel terminated after including their "pronouns" in their email signatures, a practice viewed as an overture to the ideas that there are more than two genders and that people can identify as a gender that does not align with their biological sex.
The situation was amplified over the weekend after The New York Times published an article late last week about the termination of Zelaya and Wilmot.
Zelaya shared an image of the letter informing her of termination on social media. The letter, dated April 19, read, "as a result of your refusal to remove pronouns in your email signature in violation of institutional policy," "you are being relieved of your duties effective immediately."
In a video recorded shortly after her termination, Zelaya said she had received an institution-wide email around October 2022, saying "for marketing purposes and for branding purposes, we are trying to have a streamlined email signature.'" She noted that the email told school staff that they "shouldn't have Bible verses" in their email signatures and advised them to refrain from using "crazy fonts." 
University spokesperson Michael Blankenship elaborated on school policy on email signatures in a statement to The New York Times. He insists that the university "has never terminated an employment relationship based solely on the use of pronouns in staff email signatures."
"Over the past years, we've required anything extraneous be removed from email signatures, including Scripture quotes," he said. 
In the video published after their termination, both Zelaya and Wilmot pointed to the dual-gender nature and appearance of their names as one reason why they chose to include their pronouns in their email signatures.
"I have been mistaken for a woman over email and in person because I have long blonde hair," Wilmot said.
"I know many men and women who have been named Raegan," Zelaya agreed. Zelaya also defended using her pronouns as a "pretty standard industry practice," while Wilmot described them as a "great conversation starter."
Wilmot believes his description of the Wesleyan Church's teachings on sexual orientation and gender identity as "outdated and problematic" was another reason why he was terminated. 
Before receiving their respective letters alerting them of their termination, Zelaya already indicated her intention to resign to administrators, while Wilmot learned in February that his contract would "not be renewed."
Houghton University is a member of the Council for Christian Colleges and Universities, an advocacy group representing the interests of over 180 Christian higher education institutions across the globe. The organization has pushed back against claims that Christian colleges that uphold rules reflecting traditional beliefs on marriage and sexuality are "homophobic." 
The CCCU also fought a lawsuit filed by a group of LGBT Christian college students and former students who sued the U.S. Department of Education in 2021 for providing religious exemption to Title IX discrimination laws to Christian higher education institutions.
CCCU has supported the "Fairness for All" initiative, a set of legislative ideals that would provide federal LGBT discrimination protections in exchange for religious exemptions for traditional Christian beliefs on sexuality.
Houghton College's President Emerita Shirley Mullen, who previously served as vice chair of the CCCU board of directors, told The Christian Post in 2019 that there is "risk" associated with "Fairness for All."
"There is a risk to Fairness for All," she admitted. "Then, what I would say is that there is also a huge risk to not being in this dialogue. It's not just the risk of losing legal protection for our freedom of beliefs. It is also, I would say, losing that capacity to have the Christian community viewed as people who are respectful and who want to treat [with respect] human beings who differ from them in fundamental ways."