Comedian John Crist: Pastors not responsible for consumerism in churches, members are
Comedian John Crist: Pastors not responsible for consumerism in churches, members are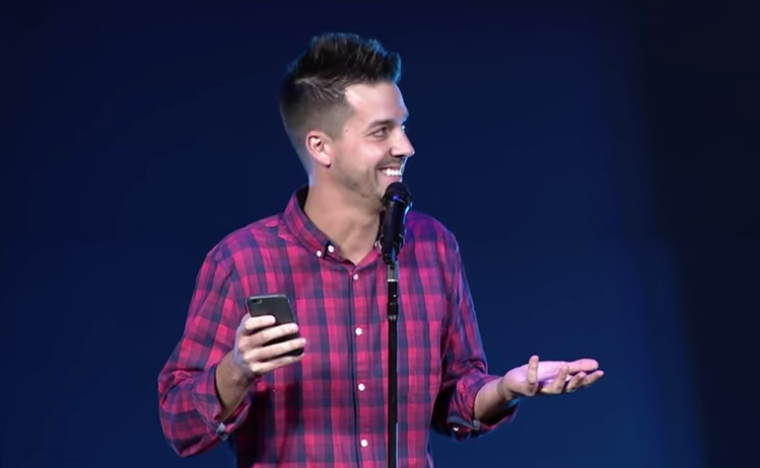 Christian comedian John Crist believes that pastors are not responsible for the consumerist mindset present in churches, evidenced by the over-the-top theatrics some megachurches display, a shift in his previous opinion on the subject.
In a video posted to his Facebook page Sunday, Crist explained that viewers often send him clips showing their churches doing excessive things, such as a helicopter fly-over with a candy drop for kids and a church that had transformed their stage to resemble a NCAA tournament court.
"I think I want to change my stance," Crist said.
"You know why all these churches do all these things?" he asked, "for us."
He continued that he does not blame the pastors for doing these things, as they are the largest churches in the United States.
"We've obviously created the demand," he explained.
"You know why your church spent your tithe money to get a photo booth? Because everyone at the church took a photo in front of it," he said.
He humorously recounted a time where he spoke with his dad, a pastor, who once had a family tell him that they left the church because the children's drama program had been discontinued.
His father mused that the church was healing the sick and feeding the poor, and the family did not seemed moved and wanted their kids to be in The Wizard of Oz.
Pastors now have watered-down messages, the comedian went on to say, which also stems from churchgoers' demands.
"You know why they do that? Because if they told you the truth you would leave."
He and a friend joke about pastors who post their own quotes on Instagram, particularly those who say things that rhyme and are easy to tweet, even if it does not make much sense, such as "God takes delight when your heart is right," or "When you're in distress God says that is part of the process."
This is not because of the pastors or leaders who desire to communicate the truth, he asserted.
"It's because of us."
"And don't get me started on churches with 'at the movies' themes. No, I don't want to hear about the Beatitudes ... What? It's a parallel to 'Finding Nemo'? Tell me more," he joked.
The video concluded with Crist reiterating that he is over the days of placing blame on the pastors and churches for the culture of consumerism and that Christians should start looking at themselves in the mirror.
While thoughtful television programming gets routinely canceled soon after their debut seasons, the talk show "Maury" — infamous for its administering of paternity and polygraph tests before a raucous audience — has been on the air since 1991 and is always renewed, Crist pointed out. This, too, is fueled by demand.
"Maybe this is who we are," he said.