10 Christian reactions to Trump's State of the Union address
10 Christian reactions to Trump's State of the Union address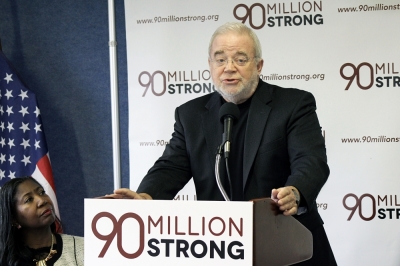 2. Jim Wallis
Wallis, the founder of the prominent progressive evangelical social justice organization Sojourners, was less impressed with Trump's speech than Perkins was.
Wallis has been a critic of Trump's since the thrice-married real estate mogul won the 2016 presidential election. Wallis has argued that the heavy support Trump received from white evangelicals in the 2016 presidential election represents a "crisis in the church" and that white evangelicals would be responsible for his administration's "racist" policies.
"President Trump began his State of the Union speech by 'recognizing two anniversaries' this year: the 75th anniversary of the D-Day invasion and the 50th anniversary of America putting a man on the moon," Wallis wrote in a statement provided to The Christian Post. "The one that Donald Trump left out for 2019 is the 400th anniversary of the first African slaves sold into human bondage in Jamestown, Virginia in 1619."
Wallis contended that the "early omission" struck him as "important and revealing."
"After several statements about unity as Americans, he couldn't help coming back to his wall," Wallis added.
Trump declared in his speech that he would get the wall built on the southern border "to secure the vast areas between our ports of entry." The wall would be in the form of a see-through steel barrier and would be "deployed in the areas identified by border agents as having the greatest need."
"And as these [border] agents will tell you, 'where walls go up, illegal crossings go way down,'" Trump said.
However, Wallis maintains that Trump's wall is a "mere symbol" of a promise made to his "white nationalist" base because it will be a "wall that keeps non-white people out of America."
Wallis stressed that the wall would serve "as a monument to American Racism."
"As Pope Francis has said, 'A person who thinks only about building walls, wherever they may be, and not building bridges, is not Christian,'" Wallis wrote. "This is not in the Gospel."