10 Essential Facts About the History of Ben-Hur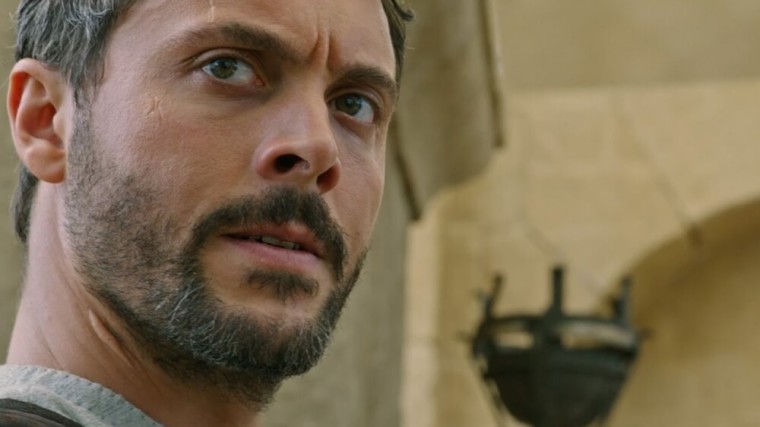 Before an illustrious line of Ben-Hurs — played by Ramon Novarro in 1925, Charlton Heston in 1959, and now Jack Huston in 2016 — graced the big screen, the character of Judah Ben-Hur was crafted in Lew Wallace's 1880 novel, Ben-Hur: A Tale of the Christ.
The newest Ben-Hur film is about to hit theaters this week, and as early as 2014 MGM and Paramount promised the film's return to "Lew Wallace's epic novel focusing on the nature of faith." In a recent interview, director Timur Bekmambetov also invoked Wallace's novel when discussing his vision for Ben-Hur (2016).
Here are some fascinating and important hallmarks of Ben-Hur's history that are really worth knowing if you plan to see the new film:
1. Despite its 1880 publication date, Ben-Hur was the number one best-selling work of fiction of the 19th century in the United States.
The original New York Times (11/14/1880) review described Wallace's rendering of New Testament episodes from Christ's life as "thoroughly devotional."
2. The novel Ben-Hur was a recognized source for evangelism.
Readers wrote to Wallace describing newfound spiritual salvation through the act of reading. The novel also came to be read frequently alongside the Bible in church services and Sunday schools. Many of these firsthand accounts survive in archives.
3. Wallace found his faith in Christ while writing Ben-Hur.
In his 1890s lecture, "How I Came to Write Ben-Hur," Wallace revealed writing the account of Christ's life in Ben-Hur to explore his own faith, after hearing famed agnostic Robert Ingersoll question God's existence. Formerly having "no convictions about God or Christ," Wallace wrote Ben-Hur "reverentially, and frequently with awe".
4. Wallace went from being an author to a US ambassador virtually overnight.
President Garfield was highly impressed with the novel, and in 1881 appointed Wallace Minister to Turkey for the "breadth of culture" shown in his detailed illustration of the ancient Near East. Wallace had previously served as a Union Major General in the Civil War and Governor of the New Mexico Territory.
5. Ben-Hur had its own fraternal order.
A fraternal organization and insurance business, the Supreme Tribe of Ben-Hur, was founded in 1894. One of few fraternal orders at the time to accept male and female members, the Tribe had an initiation ritual featuring costumed re-enactments of scenes from Ben-Hur. The Tribe was active until 1988.
6. A stage version of Ben-Hur featured chariots with live horses.
In 1899 theater exhibitors Klaw and Erlanger adapted the novel into a Broadway play, which toured for 21 years. Multiple chariots, with horses running on treadmills, filled the stage in the chariot race scene.
7. Wallace did not allow the Crucifixion to be staged.
Wallace agreed to the dramatization of his novel in 1899, under 2 conditions: Christ could not be represented by an actor, and the Crucifixion could not be staged, "in order not to jar the sensibilities of th[e] Christian community" (Wallace, Indianapolis News, 12/1/1899).
8. Wallace built a personal study you can visit today.
In 1896 construction began on Wallace's study near his home in Crawfordsville, Indiana. The building features a beautiful combination of Greco-Roman and Byzantine architectural motifs, and Judah Ben-Hur's face is carved into the stone frieze above the entrance. Wallace's study still is a must-see spot for fans of Ben-Hur.
9. Ben-Hur has made Hollywood history more than once.
Fred Niblo's silent feature film Ben-Hur helped establish the success of the newly merged Metro-Goldwyn-Mayer studios in 1925. William Wyler's 1959 film adaptation starring Charlton Heston received a record eleven Academy Awards, a record it still holds jointly with Titanic (1997) and Lord of the Rings: The Return of the King (2003).
10. Before 2016, Christ's voice and face had never appeared in a performance of Ben-Hur.
MGM's 1925 and 1959 Ben-Hur films show Christ represented by an actor, but without a face or a voice. This was perhaps out of respect for Wallace's original mandate that performances of Ben-Hur maintain a degree of reverential distance.
The recent faith trailer for Ben-Hur (2016) shows Christ in voice, face, and body. This vivid image of Christ's humanness holds promise for replicating the original novel's effect on audiences. After all, the book's influence on its original readers to seek spiritual salvation was rooted in Christ's voice, preserved in the quotation Wallace featured in the novel's Crucifixion scene: "I am the Resurrection and the Life."
Dr. Emily Chow-Kambitsch is a researcher based at University College London, specializing in representations of the ancient world in American historical fiction, theatre, and cinema.