10 Interesting Things to See at the New Museum of the Bible: Sneak Preview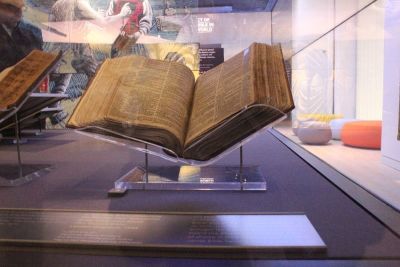 6. Pilgrim's Bible
The "Impact of the Bible" exhibit aims to show visitors just how much of an impact the Word of God and Christian principles have had in not only founding the United States but also throughout its history as well.
On display in this exhibit is a 1592 Bible owned by William Bradford, the 2nd governor of the Plymouth Colony who traveled aboard the Mayflower in 1620 and was a signatory of the Mayflower Compact.
"In 1560, English Protestants living in exile published the English-language Geneva Bible, one of the most popular Bibles of its time. It is believed that the pilgrims brought the Geneva Bible with them on board the Mayflower," a Museum placard states. "It was the Bible of choice in New England until the King James Bible became more widely available."