10 Reactions to Ted Cruz Announcing He's Running for President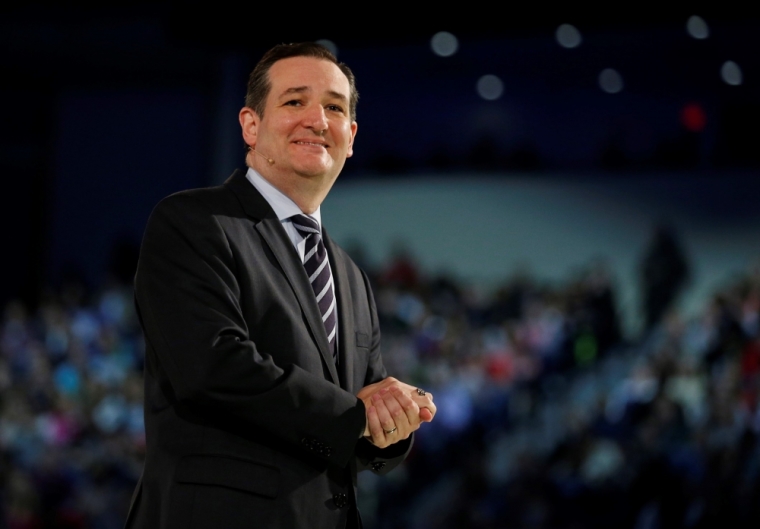 Here are 10 reactions to U.S. Sen. Ted Cruz's, R-Texas, Monday announcement at Liberty University that he is running for president.
These comments are from journalists and pundits from across the partisan and ideological spectrum and are in no particular order.
1. Jerry Brown, governor of California
Cruz's position on climate change make him unfit, not just to be president, but to run for office.
"That man betokens such a level of ignorance and a direct falsification of the existing scientific data. It's shocking and I think that man has rendered himself absolutely unfit to be running for office."
Cruz spoke without a teleprompter.
"But Cruz does have a background in speaking off the cuff. As a lawyer, he has argued before the Supreme Court, where justices frequently push litigators away from their prepared text with questions and critiques. Cruz was also on the debate team while at Princeton University."
3. Chris Cillizza, The Washington Post
Cruz channeled Barack Obama.
"Ted Cruz doesn't get compared to President Obama all that often. But the senator's speech carried heavy echoes of the rhetoric and positioning that the current occupant of the White House used in the early days of his own national ambitions."
4. Timothy P. Carney, Washington Examiner
Cruz is running against corporate welfare.
"Cruz building a campaign partly around this reminds us that he's aiming squarely at the Tea Party. More broadly, it reminds us that these days being the "conservative" candidate means doing battle, at times with the Chamber of Commerce and the business lobby. As other candidates jump officially into the race, they're going to need to show some bona fides on battling corporate welfare too."
Cruz was the first to announce his candidacy for president in 2016. Declaring early usually does not go well.
"Ominously for Mr Cruz, the first Republican to declare has not gone on to win the nomination since at least 1952."
6. Ben Domenech, The Federalist
Cruz can win the nomination.
"The Acela corridor mindset about Ted Cruz is basically: 'he has no path,' 'why is he doing this,' or 'he's a disruptive pain in the butt and should shut up and go away.' Allow me to quote one of the emails I received last night on this topic: 'he's a disruptive pain in the butt and should shut up and go away.' Yes, I understand that Cruz's approach to politics and speechmaking rubs some people the wrong way, but there is actually a counterintuitive case to be made that he has a clearer path to the nomination than his critics might like."
7. Domenico Montanaro, National Public Radio
Is Canadian-born Cruz eligible for the presidency?
"The U.S. Constitution says presidential candidates have to be 'natural-born citizens.' But the Supreme Court has never weighed in with a definition, leaving it open to interpretation."
8. Harry Enten, FiveThirtyEight.com
Cruz is too disliked and too extreme to win the nomination.
"Texas Sen. Ted Cruz's newly minted presidential campaign is the media equivalent of a juicy rib-eye that robbers use to distract a guard dog during a heist. He'll get a ton of media attention, and he'll get to spread his message — which may be all that Cruz is after — but Cruz almost certainly has no shot of winning the nomination, according to every indicator that predicts success in presidential primaries."
Cruz has a weird obsession with abolishing the IRS.
"In any event, the conservative id now has an official candidate, which means some of his pet policy ideas will get a little more attention. My personal favorite, which he mentioned during his speech today, is Cruz's oft-repeated conviction that we should eliminate the Internal Revenue Service — or, as he now likes to half-jokingly put it these days, "abolish the IRS, take all 125,000 IRS agents and put them on our southern border." Cruz says this would be his second priority, after repealing Obamacare (of course). And it's kind of fun to contemplate. The U.S.-Mexico border is 1,954 miles long. Assuming we rotated those 125,000 newly reassigned agents on three separate eight-hour shifts (gotta guard the border 24/7, after all), we could install one agent roughly every 250 feet. That's less than a football field, people. We could basically handle border security like the world's largest game of Red Rover. Weekends would be a little more porous, but that's what overtime pay is for."
10. Montel Williams, radio and television personality
Cruz is again compared to President Barack Obama.
"Because the last time we elected 1st term Senator the result was just swell."