10-Y-O Boy Tortured, Beaten Unconscious by Muslim Cleric in Pakistan for Refusing to Work Construction on a Mosque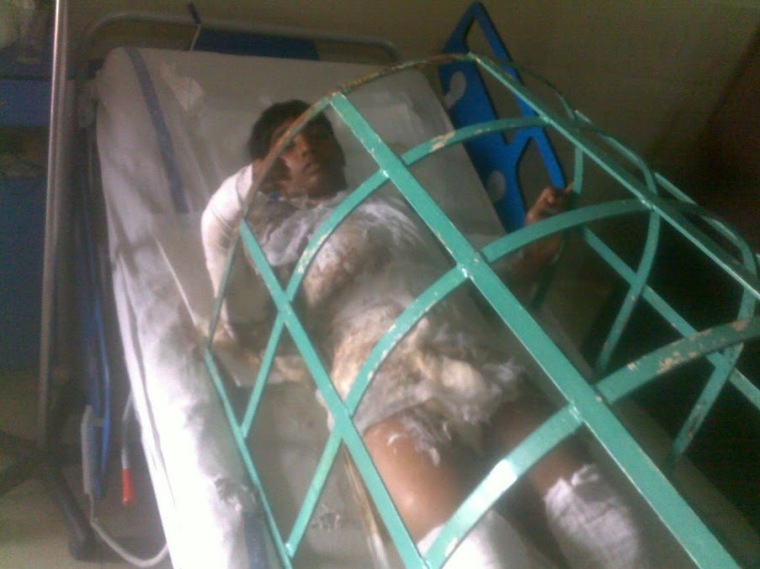 A 10-year-old boy in Pakistan was allegedly tortured with a stick by his Islamic school teacher after he refused to do construction work on a mosque in the Punjab province.
The Pakistani news site Dawn.com reported that the boy, named only as Tayyab, who is a student at Jamia Ishadal Quran seminary in the Noorpur village in the town of Pakpattan, was brutally beaten by an Islamic cleric until he passed out on Sunday.
Rozi Khan, Tayyab's father, told local media that he was alerted that his son was being physically assaulted when two of his son's classmates came to him and told him that Tayyab was being held by the cleric.
Khan said he rushed over to the school to find his son unconscious and then rushed him to a nearby medical center for treatment. Khan added that he has come to the understanding that his son was beaten because he declined to work as a laborer in the construction of a mosque.
"I rushed to the seminary and found my son beaten with sticks," Khan explained. "Tayyab fainted due to torture and I shifted him to the rural health center."
The medical center stated that Tayyab had a number of wounds on his back that are consistent with being been flogged with a sticks.
Khan added that he has asked local policing authorities involved in the investigation to hold the cleric accountable for his actions.
While it's unknown whether the cleric who tortured Tayyab will be arrested, charged or even convicted if he is charged, authorities in Pakistan don't have a good track record of holding radical Muslim attackers of innocent children or religious minorities accountable for their criminal actions.
In April, two Muslim men were on their way to a prayer service at a mosque in Lahore when they approached a 15-year-old Christian boy, Nouman Masih, who was en route to the tailoring shop he was working at as an apprentice when they asked him if he was a Christian. When the boy answered truthfully that he was a Christian the men chased Masih down, beat him, poured Kerosene on his body and lit him on fire.
Burns covered 55 percent of Masih's body and he died five days later, but not before he gave a video testimony to what happened, saying that he was burned by two Muslim men for this faith. Despite the fact that the British Pakistani Christian Association has video evidence of Masih's testimony, the local authorities claim that Masih never gave a statement about the attack and that no religious motivation was yet determined.
Additionally, a Christian family in the Punjab province claims that authorities tried to obstruct medical evidence proving that their two teenage daughters were gangraped in the middle of the night by a group of five Muslim men and dumped unconscious on the side of the street last December.
Police and judicial corruption in Pakistan is such a problem that in March, police officers in the Punjab province killed the son of a Christian servant after she refused to confess to a crime that she did not commit.
"I want justice, but I know the court will ignore our case. Our judicial system is corrupt despite attempts to prevent it," the Christian mother, Aysha Bibi, said in an interview arranged with The Christian Post through BPCA. "We forced police to lodge a [case] against the police officers involved in my son's death. It has now been registered after a protest but none of the police officers have been arrested."
And similarly, last November a police officer hacked a man accused of blasphemy to death with an axe while he was in jail.