10-y-o Christian refugee is now America's newest chess master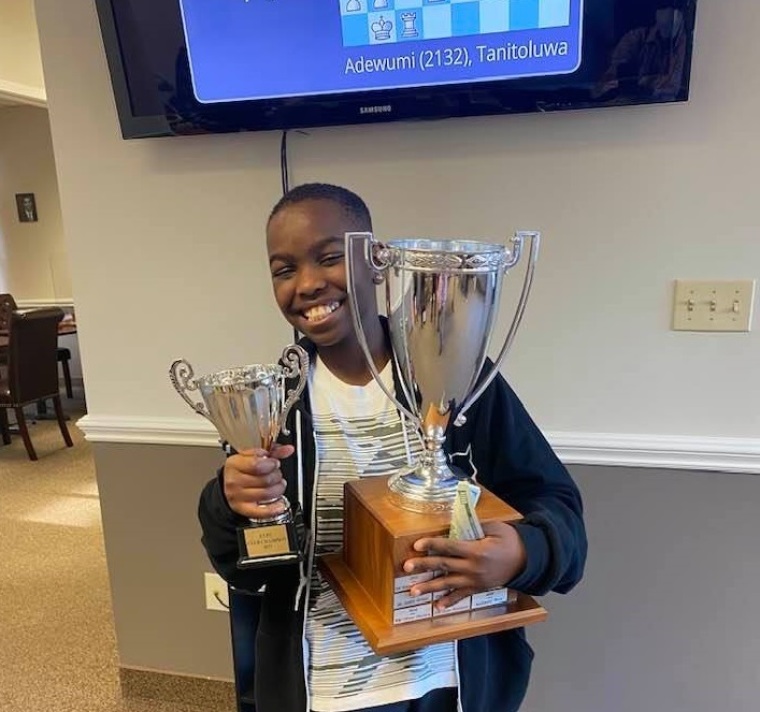 Tanitoluwa Adewumi, a once-homeless Christian refugee in New York City who fled persecution with his family from Islamist terrorist group Boko Haram in Nigeria, is now America's newest national chess master at the age of 10. And he and his family are thanking God for the achievement.
"Our God has done it again today. Tanitoluwa won Chess Club of Fairfield Connecticut championship," the prodigy's father, Kayode Adewumi, announced earlier this month in a post on Facebook showing his son, affectionately called Tani, gleefully holding two trophies. Earning that win on May 1 gave the 10-year-old his newest chess ranking.
A statement from the U.S. Chess Federation said Tani's achievement at 10 years, seven months, and 28 days makes him the 28th youngest person to become a national chess master. Tani, who had to defeat another national chess master and an international master to achieve his latest ranking, said he is "very happy" about the achievement.
"I'm very happy that I won and that I got the title. I'm very happy with myself. I really love that I finally got it," he told NPR in a recent interview.
Tani was living with his family in a homeless shelter in Manhattan in 2019 when he was featured in an op-ed by The New York Times' Nicholas Kristoff shortly after he won New York state's primary chess championship after a little more than a year of playing chess.
"Tani is a reminder: Talent is universal, but opportunity is not. He was lucky that his homeless shelter was near a school with a chess program. It waived the chess club fees for him. He's also a reminder that refugees enrich our country (I say that as the son of a refugee)," Kristoff noted in a tweet a day after Tani earned his chess master title.
In 2017, as Christians faced deadly terrorist attacks in Nigeria, Tani's family fled.
"Such violence often results in the loss of life and physical injury, as well as loss of property. As a result of the violence, Christians are also dispossessed of their land and means of livelihood. Christians in northern Nigeria, especially in the Sharia states, face discrimination and exclusion as second-class citizens. Christians with a Muslim background also face rejection from their own families and pressure to give up Christianity," Open Doors USA, an organization that helps persecuted Christians in 60 countries, explained.
Since 2019, however, life for Tani and his family has changed significantly. His family moved out of the shelter and a book has been written about his life, titled, My Name Is Tani ... and I Believe in Miracles: The Amazing True Story of One Boy's Journey from Refugee to Chess Champion.
The book has been optioned for a Trevor Noah-produced film adaptation with a script by "The Pursuit of Happyness" screenwriter Steven Conrad, according to NPR.
"[Life], it's better I would say, but I thank God for everything that He's done for our family," Tani told NPR.
Tani, who hopes to become the world's youngest chess grandmaster by unseating the current record holder, Sergey Karjakin, who gained his title at 12 years 7 months, says he practices sometimes up to 11 hours a day.
He says the best chess match he's ever had was against American grandmaster Hikaru Nakamura. He was beaten, he said, but described it as a "good experience." He also doesn't see himself as losing.
"I say to myself that I never lose, that I only learn because when you lose you have to make a mistake to lose that game. So you learn from that mistake. ... So losing is a way of winning for yourself," he said.